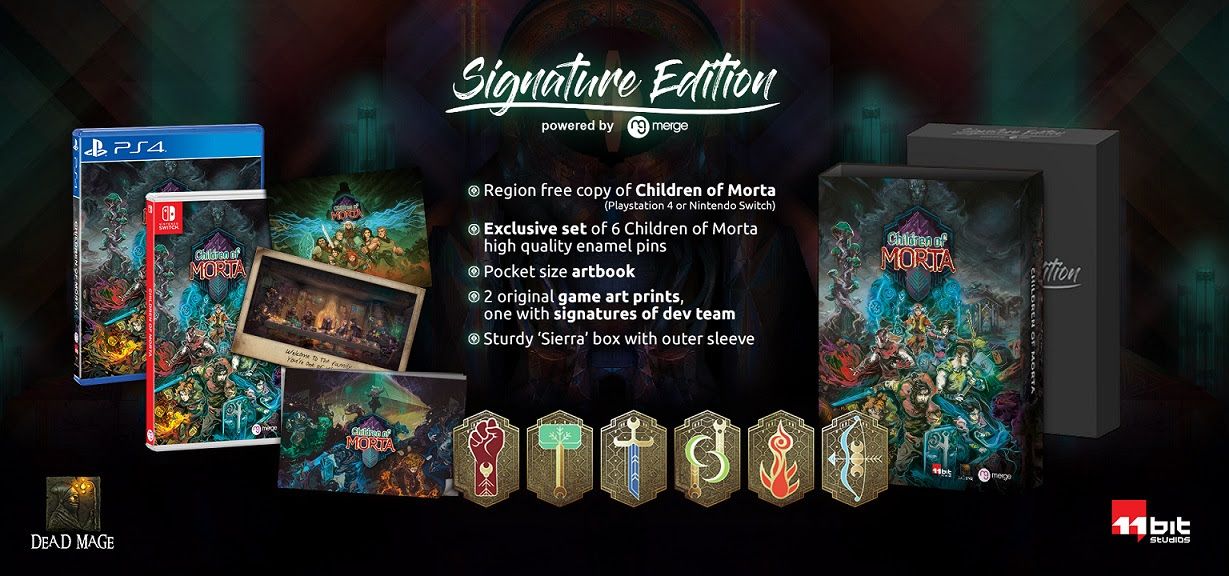 Dead Mage and 11 bit studios revealed the contents of the Children of Morta Signature Edition today. This special retail edition of the game is being published by Merge Games through their Signature Edition Games storefront. The game will cost £39.99 GBP or $72.86 AUD. It contains a region-free copy of the game for the Switch, a pocket art book, an art card, a certificate with a picture of the Bergson family, and six enamel pins representing the game's six combat styles. The Signature Edition is available for pre-order and will ship alongside the game's release in September.
A brand new gameplay teaser trailer has been released to accompany the announcement. The trailer is extremely short, showing off the game's pixelated art style and a few quick shots of combat.
Children of Morta is a rogue-like action RPG coming to the Switch and PC this September. The game stars the Bergson family. Each family member is a hero with unique abilities, and they are all dedicated to protecting the Mountain Morta at all costs. The Corruption is spreading across the mountain, threatening this deeply spiritual mountain for the locales. The family must work together to battle back against the Corruption, even if it means sacrificing themselves for the people they love.