Rockstar has revealed the pre-order bonuses for Red Dead Redemption II and the special editions that will launch. All pre-orders will net buyers an outlaw survival kit and a War Horse with high courage and stamina stats. Those who pre-order on the PlayStation Store and Xbox Store before July 31st will also get an in game cash bonus and a treasure map to give them a leg up at the start of the game. Additionally, pre-orders grant an immediate cache of GTA$. The Standard Edition will come with GTA$500,000. The Special Edition will come with GTA$1,000,000. The Ultimate Edition will come with GTA$2,000,000.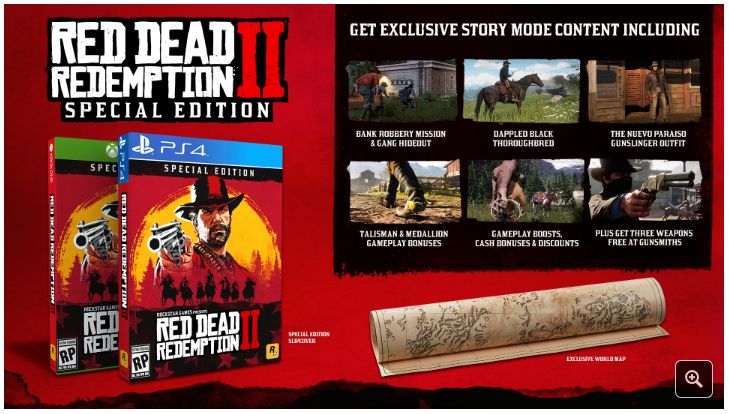 Red Dead Redemption II: Special Edition will come with the base game, stat bonuses, bonus cash during robbery missions, cheaper gang camp upgrades, three free weapons in Story Mode, two talismans, a Nuevo Paraiso Gunslinger outfit, a high quality horse, and two bonus story missions. A physical world map is also included with the game.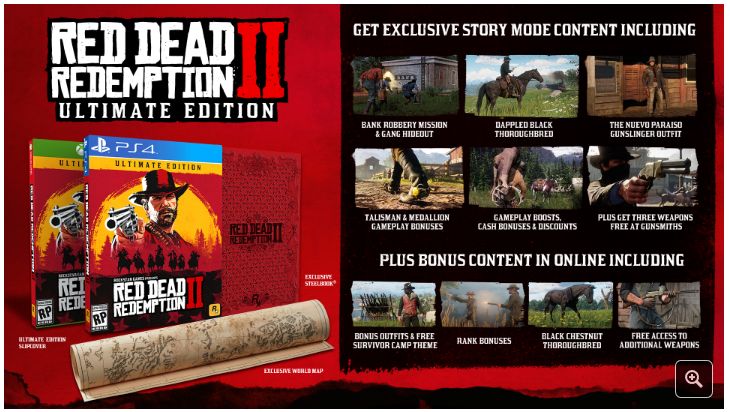 The Ultimate Edition comes with everything in the Special Edition along with two extra outfits, a black chestnut horse, free access the Survivor Camp theme, free access to three weapons in online mode, and faster rank ups to level 25.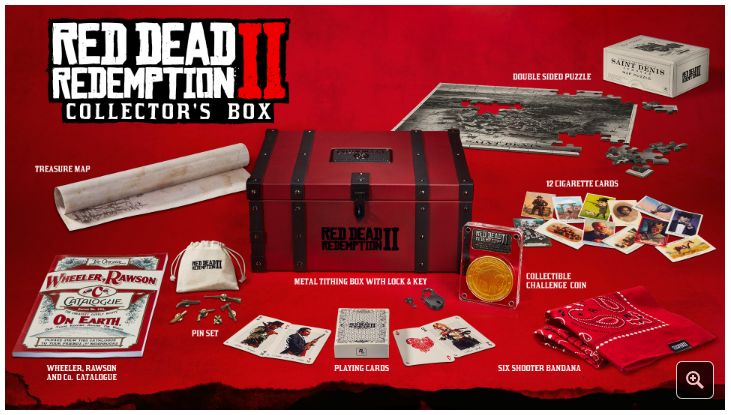 Finally, for those who prefer physical bonus items will be thrilled to hear the Red Dead Redemption II: Collector's Box is packed with goodies. An exclusive to the Rockstar Warehouse and select retailers, the entire package is held in a locked metal box inspired by the tithing box found in the Van der Linde gang camp. Inside is a collectible challenge coin, a double sided 100 piece puzzle, a red paisley bandana with western iconography within the pattern, a physical treasure map leading to in game riches, a set of six pins in a canvas carrying bag, a deck of playing cards with characters from the Van der Linde gang, a 150 page replica of the in-game weapons catalogue, and 12 cigarette cards.
Red Dead Redemption II is set to launch on PlayStation 4 and Xbox One on October 26, 2018.