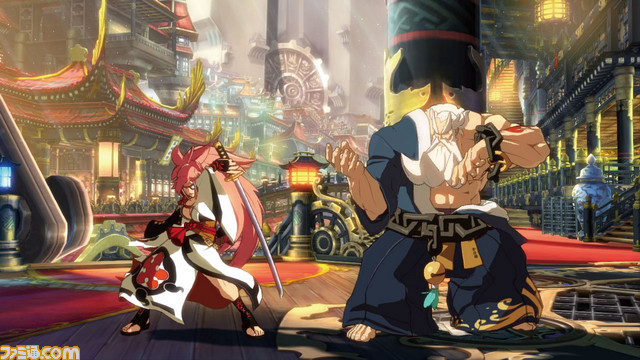 Last week we learned that Arc System Works was planning on bringing Guilty Gear Xrd: Rev 2 out this year and at the same time the company revealed that both Baiken and Answer will be added to the current roster. Now Famitsu has went online with a first look at Baiken, who was a hidden character in the original Guilty Gear, and the brand new fighter Answer.
Baiken is a strong-minded swordswoman who carries a hidden weapon where her right arm used to be. Swearing revenge on "That Man" who she believes is the culprit behind the loss of her family and friends during the crusades she battles. Baiken is described as a character that combines offense and defense and utilizes a new technique called "Azami" where she can stop an enemy's blow and then retaliate with a well-timed counterattack.
Answer is described as a business ninja that is Chipp Zanuff's aide. Thanks to his abnomal memorization he is unable to forget any events that he has experienced earning him the nickname "Human Database." Using self-taught ninjitsu, he delivers high speed attacks that rely on strategic placement of his business cards, clone attacks and warps, as well as charge attacks utilizing his scroll.