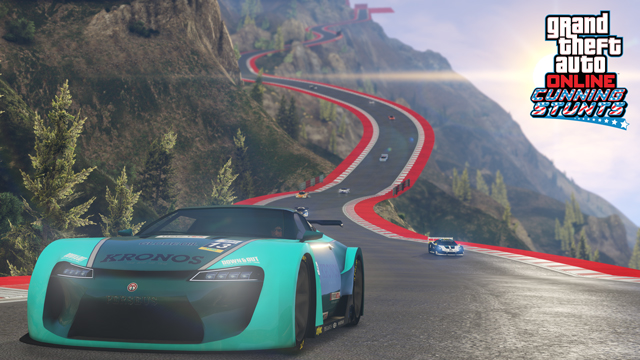 Rockstar released a small update for Grand Theft Auto Online today to expand the content of the recent "Cunning Stunts" update. Five new races have been added to the game: Chilliad (Super), H200 (Sport), Over the Bridge (Bike), Vespucci (Super), and The Wave (Bike). Additionally, three new vehicles have been added: the Bravado Sprunk Buffalo is a beefy SUV outfitted with Sprunk logos, the MTL Dune is a new off-roading vehicle, and the Vapid Contendor is an all-terrain vehicle with executive style.
The new week also brings a brand new premium race. Players will need to pay an entry fee for the race, but the winner will take home a cool GTA$100,000. This week's race is set on the new H200 track, so get your favourite sports car tuned and ready.
Finally, there are some new bonuses for all players this week. Logging into the game between July 26 and August 1 will net players a gold jumpsuit. Stunt races will be also awarding particippants double GTA$ and RP. Additionally resprays and neons are 20% off. Players looking to expand their fleet of aircraft will also get a solid 30% discount on the Buckingham Nimbuls and the Volatus helicopter.