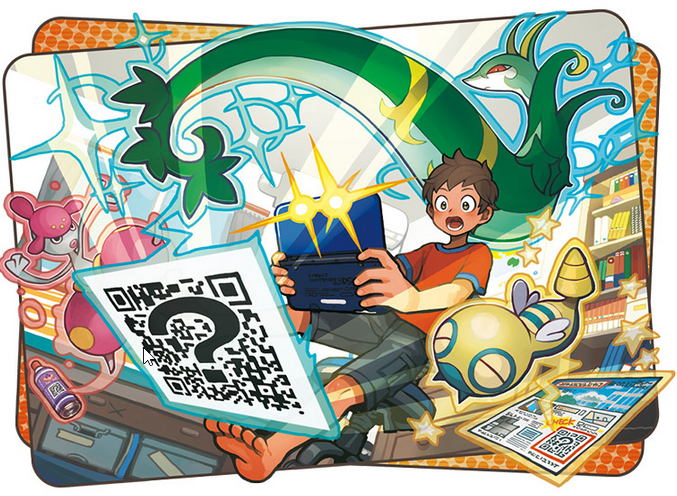 A short new trailer has been released for new main series games Pokemon Sun and Pokemon Moon, and while it doesn't show much, it does clarify some snippets we got from the last trailer.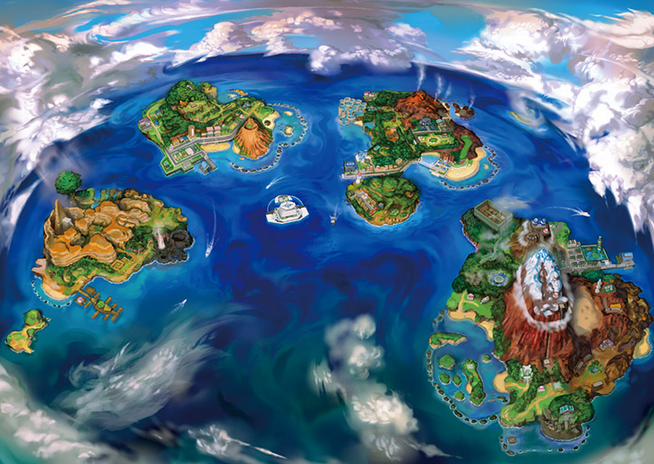 The region of Alola as many predicted, is of course bigger than one island and contains 4 large islands with a mysterious man made island in the center. Whether you will have to surf between them or can take a plane or ship between them is unknown.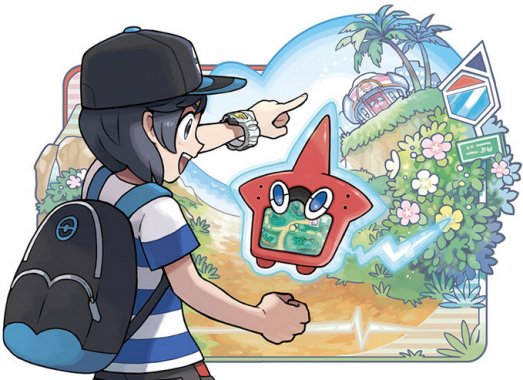 The Pokedex which has featured in every main game to date is getting an update. The Ghost/Electric Pokemon Rotom can now inhabit the Pokedex, turning it into more than just a Pokemon catalogue. It now seems to be your main assistance tool, similar to the Pokenav or other similar devices in past games, with one promo art showing it displaying a map. Pokemon can also be registered to the Pokedex with QR codes now as opposed to just seeing them yourself, which will help you find the location of certain Pokemon.
We got a few more character details which we basically knew from the first trailer. Professor Kukui is our main professor whose main interest is Pokemon moves. His assistant Lillie is a brand new reveal who does not like Pokemon battling, has an interest for books and will apparently play a large role in the plot of Sun & Moon. Your rival will be the Hau, who makes friends right away with you and loves Pokemon.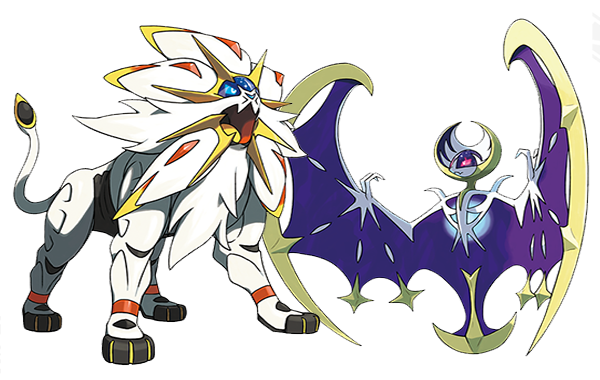 Lastly the two cover legends received names and abilities. Solgaleo is surprisingly a Psychic/Steel type. His ability is Full Metal Body which prevents stats from being lowered. He is very similar to the Pokemon Metagross in both his typing and ability. Solgaleo's signature move is Sunsteel Strike, a move that disregards abilities when attacking. The Moon legendary is Lunala, a Psychic/Ghost type. Her ability is Shadow Shield which allows it to take less damage at full health. Similar to Solgaleo, its signature move Moongeist Beam ignores the targets ability when doing damage.
We can expect to see more of Pokemon at E3 2016 at Nintendo's Treehouse, with the first live gameplay of Sun and Moon being presented as well as a Q&A on Pokemon GO! Pokemon Sun & Moon release on the Nintendo 3DS on November 18th.