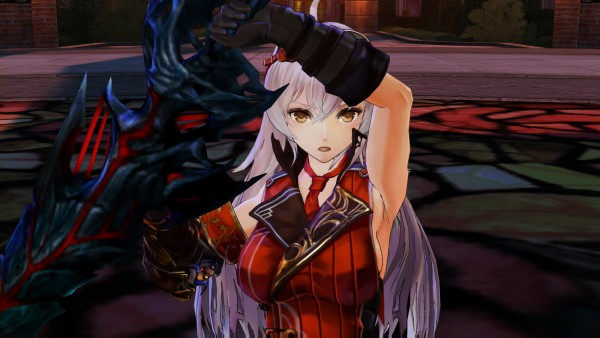 Gust and Koei Tecmo have been working together for quite a few years now after being purchased back in 2011 and while the company is fairly well known for working on their Atelier and Ar tonelico series, they have started to branch out a bit recently and Nights of Azure is a clear sign of the developer trying new things. Now, with Nights of Azure set to be released next week in both North America and Europe we had the chance to ask a few questions about the title.
---
Nights of Azure is something of a departure from the Atelier and Ar Tonelico titles that fans are familiar with. Where did the idea for this type of game come from?
Director Nakai had previously worked on the 4th Atelier title, "Atelier Judie: The Alchemist of Gramnad" and had reflected the effect of blending various items in battle. The system of items that has been incorporated into Gust titles since Atelier Judie lead to Arnice's equipment specification system. This equipment system can be reinforced based on a combination of completed items made of the characteristics of blending each item together.
In 'Nights of Azure' the characteristics of Arnice can be changed by her equipment and the formation of Servans. Furthermore, Director Nakai was in charge of creating the characters and the world. Nakai's experience with Atelier Ayesha and Atelier Jude has influenced the development process of 'Nights of Azure'.
When first revealed many fans were a bit caught off guard by the darker looking nature of Nights of Azure. What led to creating a title with a darker theme?
We had an idea for the battle system in our first draft. Arnice would play a centre role in fighting alongside demons known as Servans. Based on this idea, we created the settings that would fit a dark and fantasy world.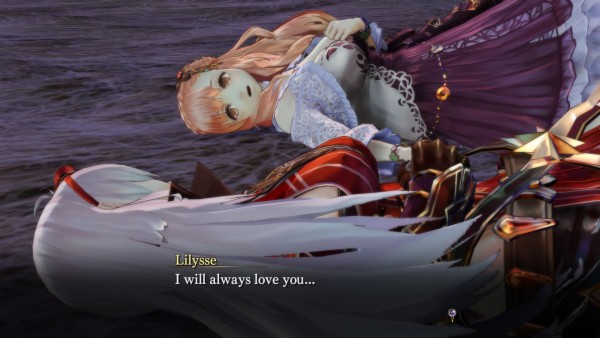 The bond between Arnice and Lilysse has been promoted quite a bit. What type of relationship can we expect to see between these two?
Arnice and Lilysse are close friends and they cherish each other. Due to this relationship it sometimes can become too much, they sometimes collide, drift apart and somethings just don't go too well. Even though this does happen we encourage players to enjoy their story too.
The fighting style Arnice appears to favour while fighting against the demons is fast-paced. What should fans expect from the game's combat system?
Previous Gust titles were command-choice type of games with not many action elements. We aimed to develop a RPG that players can enjoy with a refreshing feeling in battle which is reflected by Arnice's growth and a choice of Servans.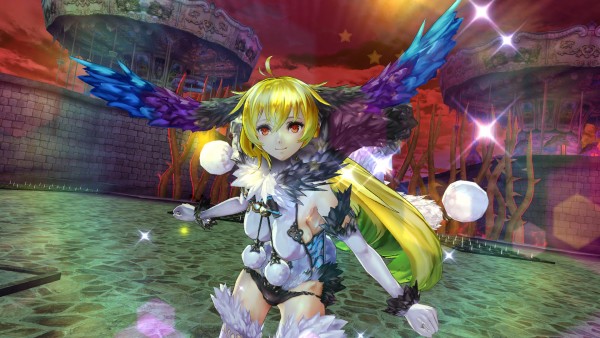 Arnice is capable of using a number of different Demon Forms in combat. What type of balance was the team looking for with these different forms?
The function of transformation is like using a bomb in shooting games. This may be used as coup de grace, or in a clutch. It sometimes shows a breathtaking power with a combination of certain weapons equipped by Arnice. Players can also enjoy finding what combinations increase the power of transformation.
Collecting and commanding demon like creatures to fight alongside the main character is something that fans of RPGs are growing quite familiar with. What helps set Nights of Azure apart with the Servans?
The dependence of Arnice's growth with accessories is set up to a large degree. Players can enjoy collecting her accessories with excellent bonuses after defeating enemies and whilst exploring the map.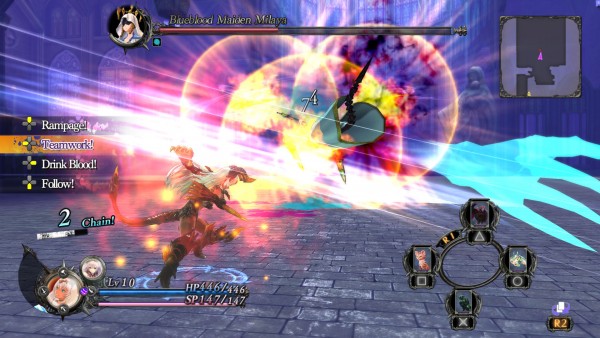 From what has been shown of Nights of Azure's gameplay footage, it appears that battles take place in a more limited area than other RPGs. Does this mean that the title centres more on hub-based missions or can players expect an open world to explore?
Yes, each battle is set on an individual state, as the game progresses new stages will be unlocked to play.
With Nights of Azure being released on the PlayStation 4 as well as the PlayStation Vita, are there any major differences between the two versions?
In terms of the gameplay there is no difference between the two platform releases.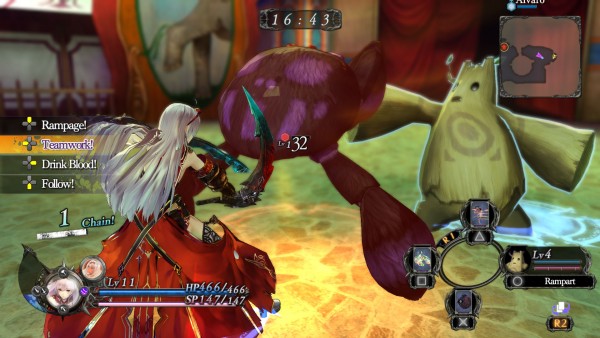 Gust-chan is being offered as a bonus for Nights of Azure and is a nice bonus for longtime fans of Gust and other cross-over titles but is there any thought of including guest characters from other series such as Atelier?
This is the very first time for Gust-chan to be included in any game titles. I am sure that Servans including Gust-chan have a lot of possibilities to make collaborations in the future. We currently don't have any information regarding that at this moment, with that in mind we will continue to explore various possibilities.
---
Nights of Azure is set to be released for the PlayStation 4 on March 31st in North America and in Europe on April 1st.