The fusion of Goku and Broly teased on the first announcement of Dragon Ball Project Fusion now has an official name. Fusing the names of Kakkarot (Goku's original Saiyan name) and Broly (spelt Broli in the original Japanese version) we have Karoli as our name! This new fusion is just one of many possible fusions in the upcoming 3DS title from Bandai Namco which is also going by a new name, shedding off the Project title to become simply Dragon Ball Fusion.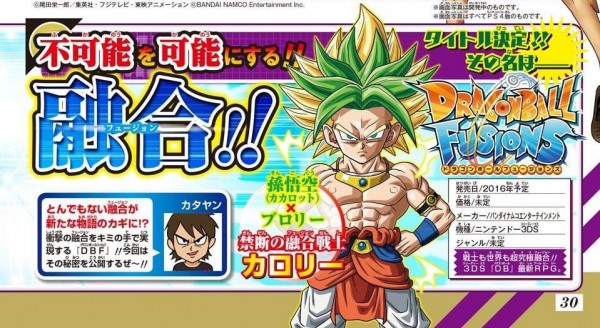 This issue of V-Jump detailed some small story tidbits as well as labelled the special type of fusion that occurs with the armbands as EX Fusion. Very similarly to Dragon Ball Xenoverse, the player can choose a race for their main player character from Saiyan, Human, Other Worlding (Kai/Buu), Alien or Namekian.
As for the story itself, the player character and Pinijji (another original character made for the game), seemed to have made a wish to Shenron to create the strongest World Tournament in the Universe which is named the Jikuuichi Budokai. This wish is why the Dragon Ball world is turned into a fusion of previous locations and characters from all over the timeline.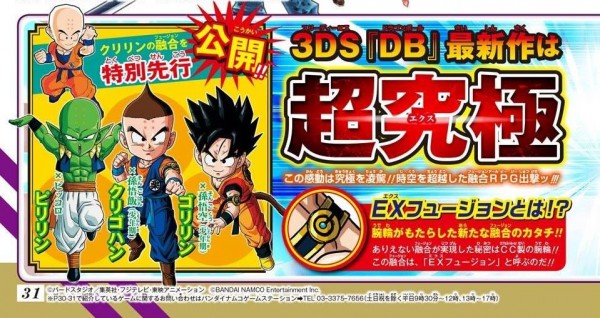 A few new Krillin fusions were also shown off. From the left we have a normally performed Fusion between Krillin and Piccolo which explains the outfit (but doesn't explain how they performed a fusion with very different heights and power levels). On the right is a fusion of Krillin and Kid Goku from Dragon Ball who is named Gorilin. Lastly, in the middle is Krillin fused with Kid Gohan to make Krigohan. Not only does that name not really fuse well but it's really hard to see where he gets that hair which plays on Krillin's name pun of chestnut in Japanese.
The game is set for a 2016 release in Japan, probably sometime around October. Still no news on a worldwide release but keep checking back with us for all the latest Dragon Ball game news as it becomes available.