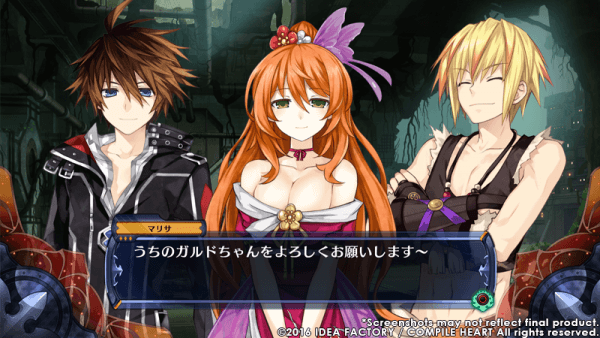 Over the past few weeks Idea Factory International has been releasing details about plenty of Fairy Fencer F: Advent Dark Force characters that fans of the RPG are more than familiar with but this time around they are focusing on a few that may not be so easy to remember, especially since most of them were simply enemies.
The character art this time features Galdo, Marissa, Paiga, Vivian, Marianna, and Khalara and thanks to Fairy Fencer F: Advent Dark Force offering three new story paths, depending on what route is chosen Fang will find himself fighting alongside his former enemies who have now joined his side, such as Marianna. A few snippets of information for these characters can be found below:
Galdo – A passionate and hot-blooded Fencer who fights with a scythe-shaped fairy weapon. He is employed by the Dorfa Corporation. While on a mission with Zenke, Galdo goes head to head with Fang in battle.
Marissa – Galdo's fairy partner. Her doting, motherly demeanor pairs well with her "Galdy-kins" and his rowdy personality.
Paiga – One of Dorfa's Four Heavenly Czars. Although he is a Fencer, he does not do well in combat and prefers to supervise his colleagues instead.
Vivian – Paiga's fairy partner. Paiga is often teased because of her scantily-clad outfit and mouse ears that she wears in her human form.
Marianna – One of Dorfa's Four Heavenly Czars. She's a Fencer who works diligently to collect Furies in order to strengthen Dorfa's influence. She volunteers at orphanages in her spare time and even plays the harp for the children.
Khalara– Marianna's fairy partner. Don't let his cute, round, mascot-like looks fool you! This foulmouthed fairy is unsuitable for children.