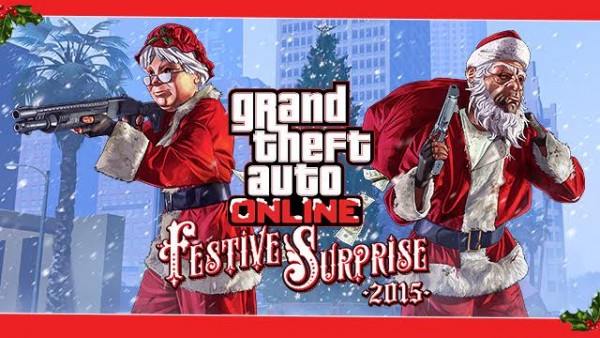 Rockstar announced their holiday plans for Grand Theft Auto Online today. Winter is coming to Los Santos, with plenty of Christmas themed gear appearing in game. The event entitled Festive Surprise 2015 runs from today until January 5th, 2016.
Players will be able to get their hands on Santa outfits, pajamas, and holiday-themed masks for free. Additionally, cars can be outfitted with three new Christmas inspired horn sounds. In case it still doesn't feel like Christmas yet, Christmas trees have popped up in Legion Square and in owned apartments, stilt houses, and yachts. Additionally, gear from previous Festive Surprise events plus some unannounced gifts will be popping up in the coming days.
Rockstar is running a Social Club contest that ends on January 5th, 2015. Tag your best holiday-themed Snapmatic photo to Social Club with the tag #FestiveSurprise2015 for a chance to win GTA$1M and a spot in a future Rockstar Newswire article.
If you don't have any holiday party plans, be sure to join Rockstar for their second annual Official GTA Online Holiday Party Livestream on Twitch and YouTube Gaming. Things kick off on December 22nd at 5pm EST.