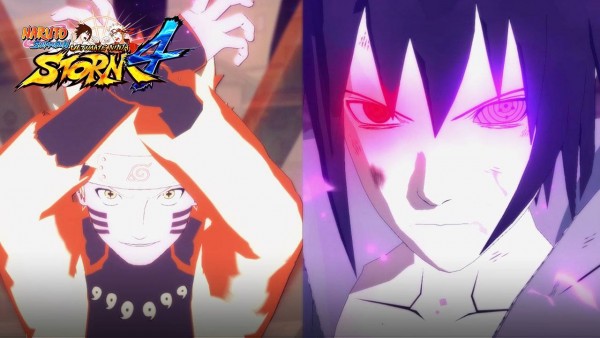 Bandai Namco has been very busy delivering news at Anime Expo 2015 and have now released an all new trailer Naruto Ultimate Ninja Storm 4 with English subtitles showcasing the final battles between Team 7 and Madara Uchiha. Kaguya, the 'Mother of Chakra' is also confirmed to be playable getting some brief time at towards the end of the trailer. The game is confirmed for an Autumn 2015 release in America for the PS4, Xbox One and PC.
Pre-order bonuses and a collectors edition were also announced. American fans before you get your hopes up keep in mind past Naruto Limited Editions have unfortunately been available only in Europe and Australia. The Collector's Edition will include an art book, exclusive The Last Naruto figurine, a steel case and a metal plate illustration. All this comes in a very nice collector's box.  Click the image above for a larger image.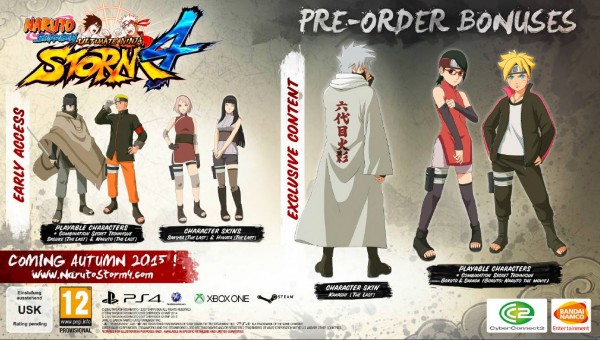 As for pre-order bonuses, it seems you might actually want these as they feature some pretty hefty bonuses. Least consequential will be the Hokage Kakashi skin, but those that don't pre-order will miss out in two playable characters. Sasuke and Sakura's daughter Sarada and Naruto and Hinata's son Boruto from Boruto: Naruto the movie. Those who pre-order will also get early access to The Last Movie playable characters and skins. Click the above image for a larger look.
In other sweet news for Storm fans, sharp eyed fans have been analyzing a lot of gameplay footage and have discovered that selectable jutsus for characters are back and that Awakening Actions will also make their return, taking over the item slots when your character is awakened. CyberConnect2 are looking to make this game the biggest Naruto Storm title yet and so far it looks like they are doing a good job. Let us know what you think of the trailer, Collector's Edition and pre-order bonuses in the comments below.
Click here fora recent developer play through of the game that takes a deeper look into some of the games new fighting mechanics.