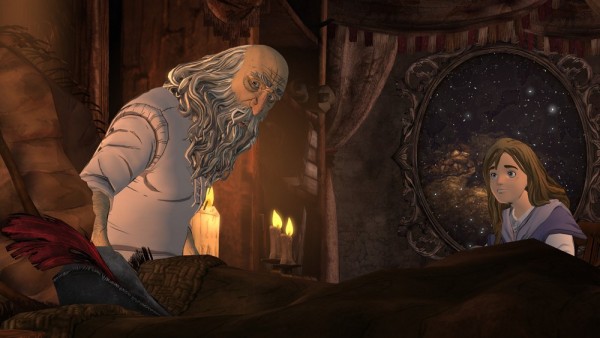 King's Quest: A Knight to Remember
Developer: The Odd Gentlemen
Platform: Playstation 4, Playstation 3, Xbox One, Xbox 360, PC
Release: Late July (TBA)
The King's Quest series is a much-beloved classic of gaming with its sprawling (for the time) world and comedic tone. There have been many iterations of the title following Graham on his journey from being a lowly knight in the realm of Daventry to becoming its King. The license has changed hands a number of times in recent memory and was previously lent out to the folks at Telltale Games before Activision pulled it back. Activision got the The Odd Gentlemen game studio to develop this latest installment and revived the old Sierra brand to release it. I sat down with one of the devs behind King's Quest: A Knight to Remember, Matt Korba, as he guided us through a demo. Here is my impression of the game they've been working on as it currently stands.
The basics of the game follow the classic design of adventure games with the player navigating the world, solving puzzles and progressing with the story. The narrative follows the recollections of King Graham as he recounts his adventures to his granddaughter, Gwendolyn, in the hopes that she learn some of his (questionable) wisdom. The narrative takes direct inspiration from movies like Big Fish and The Princess Bride in this regard by featuring heavy use of narration with Christopher Lloyd playing the part of old King Graham. In this instance, he was retelling his adventure of attending a tourney for knighthood hopefuls.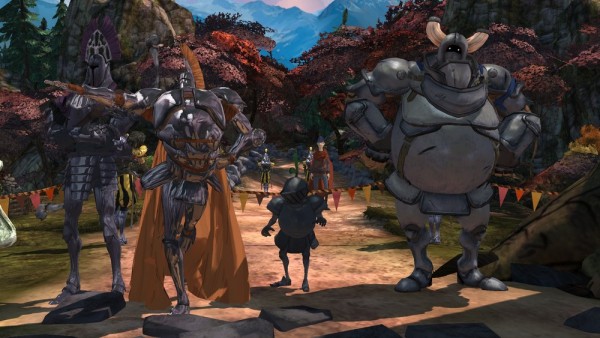 The demo opened with Graham falling down a hill, in traditional slapstick style, and coming across his first puzzle which was to cross a river which had mysteriously lost its bridge. The interactions you could have with the environment generally lead to some manner of comedic comment from the narrator. The puzzles themselves are generally quite a simple a matter which often involves finding and using the right item in the right place. In this first instance, we found a hatchet and cut down a tree to make a bridge across. We fast-forwarded through the first puzzle and came across our second which was to, once again, cross a river. This time, the solution to the puzzle would be a bit more roundabout. To implement the tree-cutting solution we used previously, we would need to get past a group of ridiculously pedantic knights.
The game features a choice system which will have a lasting and varied impact upon how the story unfolds, similar to systems used by Telltale in their games. The earliest choice we had at the start of the demo was to determine how we would go about addressing Gwendolyn's concerns about her upcoming competition. Our options were to engage with the problem through bravery, cunning, or compassion and in this instance we chose to go with cunning. Matt Korba described that he intended for the consequences of these players to result in completely different branches of narrative to unfold so that players can end up with completely different scenarios playing out. In this playthrough, we distracted the pedantic knights through faking our own distress and the creative use of bees.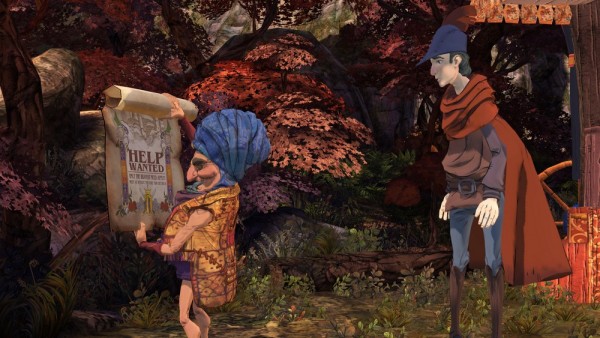 We did not have much time to see much more of the game, but we were shown another of the branching path choices available to us when approaching a given problem. In this instance, we were meant to acquire the "eye of a hideous beast". With our limited supply of money, we had the choice of dealing with one of three corresponding NPCs to try and complete this quest. There are five chapters of the game planned for release and this should give players plenty of room to see how their earlier choices impact upon later interactions. In terms of duration for the first chapter, Matt Korba stated that it would be "longer than you expected" so there should be plenty of instances where we can see what impacts our choices have directly and indirectly.
This title follows in its predecessor's footsteps by being an adventure game with strong tongue-in-cheek humour. The game looks appealing but there is something a bit off with its delivery of its comedy. I would liken the problem to a joke which has had the punchline told a split second too early or late. The jokes and script themselves are quite solid from what I saw, but with that being said; I can appreciate dry meta-humour, slapstick, and puns (PUNTASTIC PUNS). The delivery is a bit off at times which ruins punchlines, although I'm not sure whether that's just due to the code still being a bit fragile or whether the scripted dialogue and animation is just a bit off-beat. My hope is that The Odd Gentlemen work on this aspect to make it flow better before release.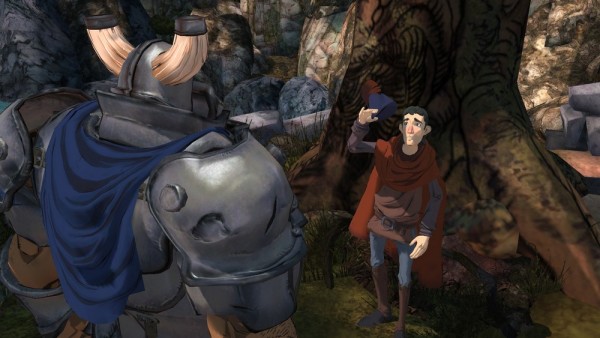 I enjoyed the aesthetic of the game which was an interesting mixture of 3D animation and painting as in-game models were printed out, hand-painted, and then scanned back in to create the interesting visuals. It creates an interesting style which is somewhat reminiscient, once again, of the work of Telltale Games but I would argue still quite distinct. I'm a fan of the old series and I'm interested in seeing how this new installment with its updated graphics and engine will work out. I felt the comedic timing needs a bit of work before release, but I'm still looking forward to giving it a shot when it comes out.
For more of our E3 coverage, click here.