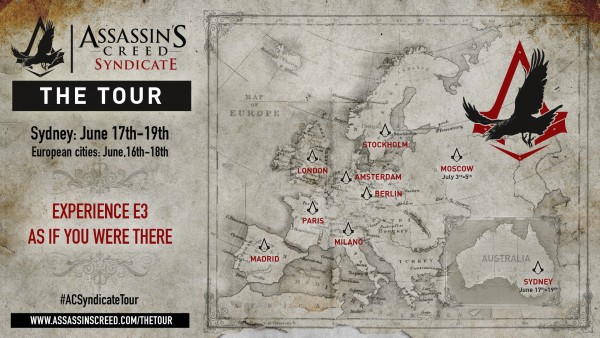 Ubisoft is hitting the road with Assassin's Creed Syndicate this summer. They will be bringing the playable E3 demo of the game to nine cities this summer. Things kick off in Sydney, Australia on June 17-19th. Amsterdam, Berlin, Madrid, Milan, Paris, Stockholm, and London will host the game on June 16-18th. Finally, things wrap up in Moscow in July.
Sign ups for the Australian stop is open and spaces are limited. Tickets will be handed out on a first come, first served basis at Ubisoft's site. Australian gamers will need to be either 15 years old and over or come with a parent or adult guardian. Be sure to register early at the official site.
Assassin's Creed Syndicate launches on PlayStation 4 and Xbox One on October 23, 2015. The PC launch is tenatively scheduled for Fall 2015.