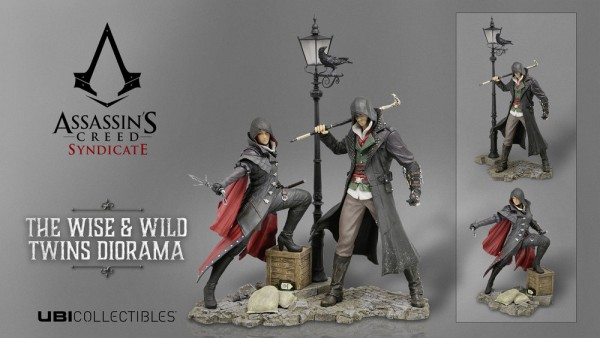 Ubisoft announced four new collectibles and two new books today for Assassin's Creed Syndicate.
UbiCollectibles will be releasing two figurines. One is of Jacob Frye ready to brawl with his cane sword and gauntlet. The other is of Jacob's twin sister Evie sporting her gauntlet and a a dagger that looks very much like a Japanese sai. The figures can be connected together to form a single diorama and come packed with a special lithography. They will be launched in the UK in October 2015.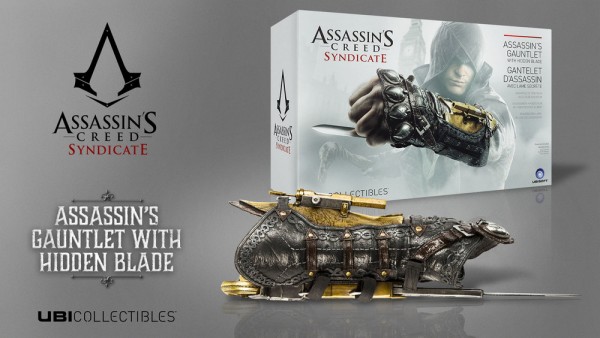 The other two collectibles are life sized reproductions of the new Assassin's gauntlet and the cane sword. The gauntlet features a functional hidden blade. A non-functional dart gun and rope launcher are also included. The cane sword has both the sword and the scythe blade that can be deployed with a push of a button. The gauntlet and the cane sword will be available in October 2015.
Ubisoft will be releasing a full coloured art book entitled The Art of Assassin's Creed Syndicate. 500 special edition copies will be released with a slipcase and exclusive concept art prints signed by the artists.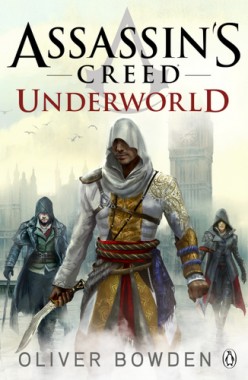 Ubisoft and Penguin Random House will be releasing Assassin's Creed Underworld on November 5th, 2015. Written by Oliver Bowden, the novel is set just before Assassin's Creed Syndicate and stars Jacob and Evie Frye's mentor, Henry Green.