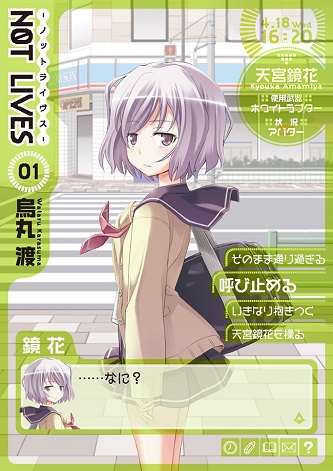 Seven Seas Entertainment has announced that they have acquired the license for a manga they describe as a "virtual gender-bender" called Not Lives.
Created by Wataru Karasuma, the manga started its run back in 2011 and currently has seven volumes in publication. Seven Seas is planning on releasing the first volume of Not Lives on March 29, 2016 for $12.99 and went on to say that every volume will include color inserts.
Not Lives tells the story of a high school student named Mikami who is something of an eccentric oddball that doesn't quite fit in. He doesn't let this bother him however as he has other passions, including his secret work as a game designer that is currently aiming to create the ultimate romance game.
However when Mikami plays a strange game that appeared in his research matterial, he is suddenly inserted into a survival game where he has been transformed into a girl. To make matters worse, if he dies in the game, he will also die in real life. As Seven Seas says, "Will Mikami survive this new adventure, or is he too excited to care?"