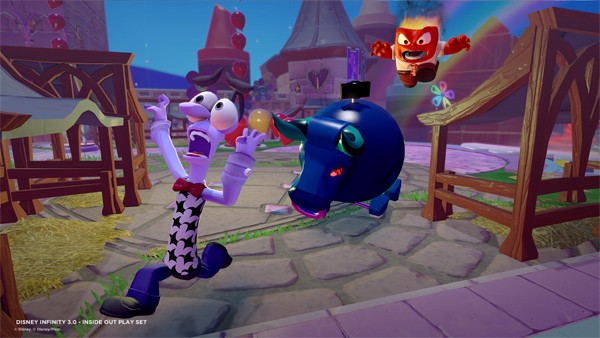 So just yesterday we had some details about the upcoming Twilight of the Republic Play Set for Disney Infinity 3.0: Star Wars, but like many of you, I was eager to learn more about the Disney Originals that would be featured in the upcoming game. Well, not even 24 hours later, Disney have provided us with some killer new info regarding the Inside Out Play Set.
Based on the upcoming (in like two weeks I'm pretty sure) animated feature film from Disney and Pixar, the Inside Out Play Set takes place in Riley's mind after she inadvertently catches a glimpse of a scary movie as she is falling asleep. Here, players will be able to place down the figures for one of her "emotions;" Joy, Fear, Anger, Disgust and Sadness and play through what looks to be an incredible platforming adventure.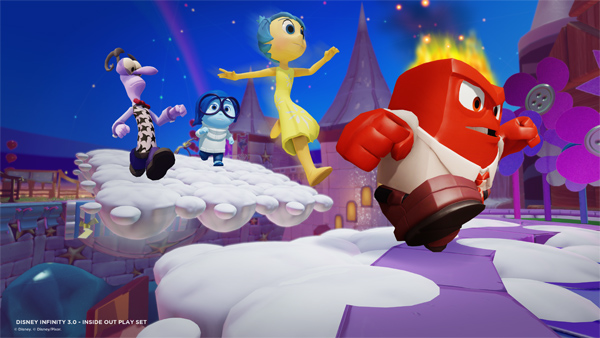 According to Disney, there will be three different game modes that feature a twist on traditional platforming:
Clouds, which fade or emit lightning;
Musical platforms, which must be precisely timed in sync with the beat, and;
Gravity barriers, which flip the player and the world upside down.
I remember back when Disney Infinity 1.0 launched, and I commented in my review that I loved how the different Play Sets all seemed inspired by different games and genres. Well don't get me wrong, I loved the 2.0 Play Sets, but I am absolutely thrilled to see the different genre games making a comeback in a big way this year.
Below we have a short trailer and a big of a gallery of images of the Play Set to check out, so feel free to do that and make sure you stay tuned to Capsule Computers because you never know when we will have the latest Disney Infinity news available.