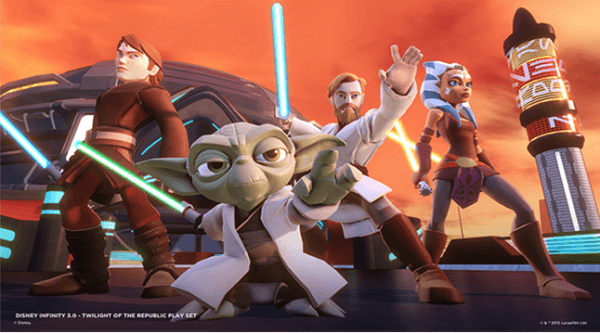 Well its official, we all know that this year's Disney Infinity game will be Star Wars themed, and that it will feature characters and stories from the past, present and future of the galaxy far, far away. Well today we have some new info and a few new screenshots of the game's first Play Set: Twilight of the Republic, which is set during the end of the infamous Clone Wars.
Through the course of the Play Set, players will travel to four locations and explore open worlds of Tatooine and Coruscant, battle droids in Geonosis and partake in an epic boss battle in Naboo. Along the way, players will use the Force and master their Lightsaber skills as they fight alongside Ahsoka Tano, Anakin Skywalker, Obi-Wan Kenobi and Yoda to save the Republic and defeat the Separatists.
We also know that each Jedi character is given specialised Force combat abilities and Force finishing moves, as well as unique Lightsaber forms with powerful combo attacks. As Jedi Master Yoda, for example, players will leap into action with his agile and acrobatic prowess. Jedi Padawan Ahsoka Tano uses her lightning-fast dual Lightsabers to carve up Battledroids, while Darth Maul uses his double-bladed Lightsaber and power in the dark side of the Force in a death-defying duel against the Jedi Master Obi-Wan Kenobi.
In addition to those new pieces of information, we also have some new screenshots of the Play Set to share with you all. So check out the gallery below and make sure you stay tuned to Capsule Computers for all the exciting Disney news as it becomes available.