Madman Entertainment has just announced that they will be screening both English-subtitled and dubbed versions of Studio Ghibli's latest film, When Marnie Was There (Omoide no Marnie), in cinemas across Australia between May 14 and 27, 2015. The film is based on the novel by Joan G. Robinson, and is the second feature film by Hiromasa Yonebayashi, who previously directed Arrietty for Studio Ghibli.
Madman provided a synopsis for the film:
Twelve-year-old Anna believes she sits outside the invisible magic circle to which most people belong, and shuts herself off from everyone around her.

Concerned for her health, Anna's foster mother decides to send her to rural Hokkaido to stay in a sleepy town by the sea. As she dreams her days away amongst the marshes, Anna finds herself strangely drawn to the enigmatic house which sits upon the edge there. This is where she meets Marnie, an energetic young girl who seems to appear from nowhere. The pair quickly become inseparable.

One evening, Marnie makes a heartfelt request of Anna: "Promise me something – that we'll remain a secret, forever." Anna begins to wonder about her newfound friend and is compelled to investigate the truth about her. As she is drawn deeper into Marnie's world, she begins to learn about family, friendship and kindness.
The films will be shown at the following locations (both subtitled and dubbed into English unless otherwise stated):
NSW: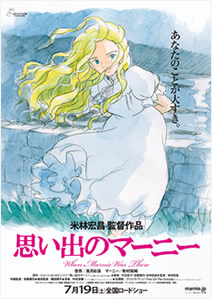 Dendy Newtown
Event George St
VIC:
Cinema Nova (subtitled-only)
Hoyts Melbourne Central (dubbed-only)
QLD:
SA:
WA:
TAS:
ACT:
The film is already available on English-subtitled DVD and Blu-ray in Japan for those who want to own a copy of it.