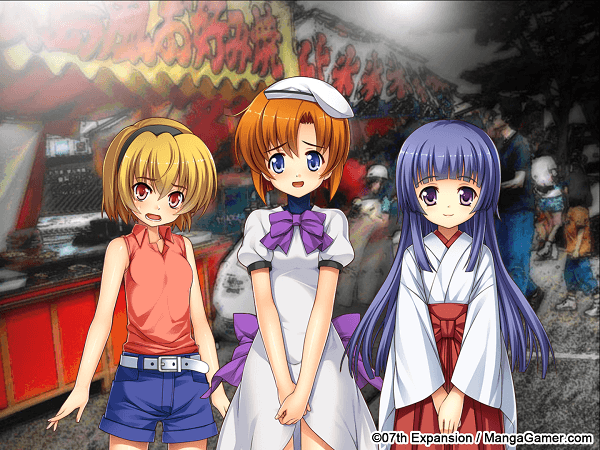 Today at Anime Boston MangaGamer had two announcements to make, one of which fans have been waiting on for quite some time. Awhile back MangaGamer revealed that they were planning on releasing Higurashi on Steam but despite the wait, it still hasn't happened yet but now we know why. At the event the company announced that they have acquired Higurashi Hou, which means that they will be releasing every single chapter of Higurashi in a definitive version for both Japan and the West.
This includes all four Question Arcs, all four Answer Arcs (called Higurashi Kai), all three arcs of Higurashi Rei (never before in English), Hinamizawa Teiryuujyo, Higurashi Outbreak, and a brand new arc called the Kamikanshi Chapter. All fourteen of these chapters will be released individually for PC on Steam and on MangaGamer's website as they make progress on the title.
The first chapter, Higurashi When They Cry Hou Ch. 1 – Onikakushi, will be released on May 15th for $5.99 though it is unclear whether or not each chapter will cost the same from in the future. All of these releases will feature upgraded sprites (including Higurashi Hou sprites) and the options to switch between the new sprites and the old, new background music, and the ability to switch between the English translations and the original Japanese text at will.
In non-Higurashi related news, MangaGamer also announced that they have acquired circletemp's MYTH visual novel. This adult visual novel which draws upon Norse mythology follows the story of a boy who lives in a "world of light" where no shadows exist until he encounters a girl with a shadow and begins to explore the darkness of a different realm with her. The title is only partially voiced but is described to have a strong soundtrack. Currently no price or release window has been given for MYTH but there will be an All-Ages release to go along with the original 18+ version when the title is released.