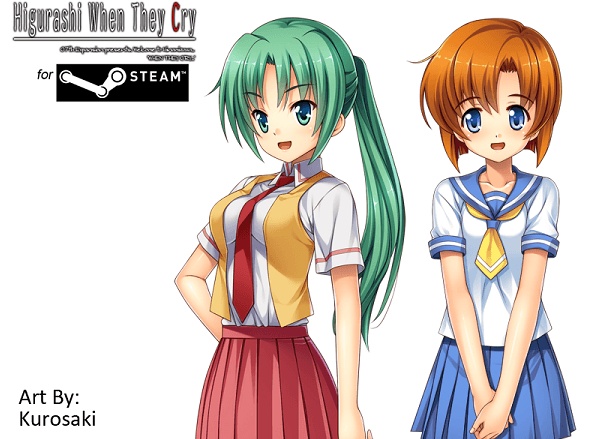 MangaGamer took the time during their Anime Expo panel to announce that Higurashi When They Cry will be given brand new sprites for its upcoming Steam release. They also announced that they are exploring some new genres as well as a partnership with Liarsoft. You see, they have announced the acquisition of three new PC titles and these games fall into the otome and boys love category.
---
The first game they revealed is called Gahkthun of the Golden Lightning which is a steampunk visual novel where Earth is connected to Kadath, an alien planet similar to Lovecraft's Dreamworld. Players will join Nikola Tesla, an electric powered super-heroic detective who travels to an independent scholastic city on an artificial island off the coast of Marseilles, The Academia, in order to investigate the mysterious intrigues plaguing the school and its students.
---
The second game announced is an otome license called OZMAFIA which is developed by Poni-Patchet. OZMAFIA is a game that follows the story of Fuuka, a girl that is suffering from amnesia and is rescued in the streets by the Oz family mafia. As she tries to find herself surrounded by danger, what fate will await this girl who will be trapped in a war between rival gangs?
---
Finally the third game they revealed is the company's first step into the Boys Love, otherwise known as Yaoi, genre with the game No, Thank You!! which is a game developed by pa-rade. The story of this title involves a protagonist who is saved by a man from an out of control car and loses his memories. With no identification and no idea who he is, the protagonist's rescuer takes responsibility for him and brings him to work in his bar.