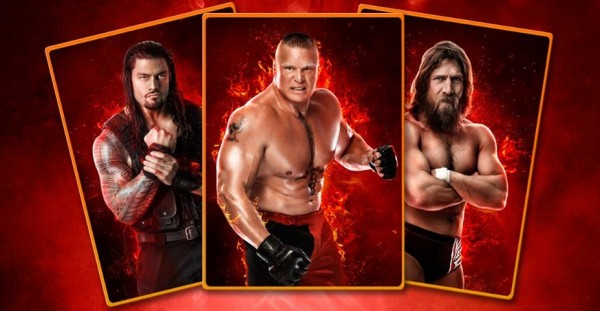 2K Games and their mobile division have been keeping up with WWE SuperCard quite well, and have delivered a new update that looks to cash in on Wrestlemania. This new update features new themes and features, with new cards, bonuses, and so on.
Here is a look at what to expect:
New "WrestleMania" Rarity Level: More powerful than Survivor, this new card rarity is a permanent addition to the game and gives WWE SuperCard a total of nine card rarity levels;
50+ New Cards: Featuring the likes of WWE Superstars John Cena, Brock Lesnar and Roman Reigns, WWE Diva Paige and new Support cards, WWE SuperCard continues extending its array of collectible content;
Daily Login Bonuses: Beginning April 1, players will earn rewards for daily logins; the more days a user logs in each month, the better the rewards;
King of the Ring Rewards: A revised King of the Ring rewards structure for players;
Key Improvements: Players will notice Card Locking now helps players lock cards to keep them from accidentally being deleted or trained without authorization, a revamped My Cards menu and other fixes.
You can download these updates today and get to battling foes for card supremacy.