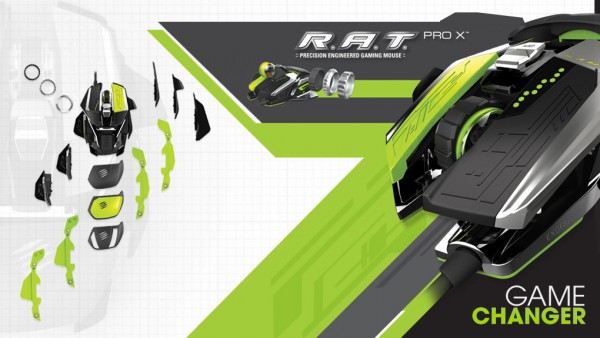 Mad Catz followed up their busy pre-CES 2015 announcements with three new products on the first day of CES 2015.
The R.A.T. ProX Gaming Mouse is the newest addition to the highly regarded R.A.T. line of gaming mice. The R.A.T. ProX takes the customization to the next level by being the first mouse to feature swappable sensors. Gamers can use choose between optical and laser Modular Sensor Units that can be upgraded as better units are released. The scroll wheel has also seen the same modular treatment, with customizable click force parts and mouse wheels available.
Mad Catz has redesigned the materials used in the R.A.T. ProX. A lighter magnesium alloy and new customizable parts to let gamers create a comfortable mouse that fits their unique hand and grip style. The R.A.T. ProX has no release date or MSRP.
Mad Catz announced a new headset for their Tritton line. The Tritton Swarm is a wireless Bluetooth headset designed for gamers on the go. The headset is the second Mad Catz product to feature the AM3D Surround sound technology that turns stereo signals into virtual surround sound. The same technology is found in F-16 Falcon fighter jets to alert pilots of incoming missiles.
Although primarily aimed at the mobile market, the headset is compatible with PC and consoles with a 3.5mm audio cable. Xbox One owners will need a special adapter to get their Swarm working with their console.
The Tritton Swarm is up for pre-order for $159.99 USD. The headset is expected to ship in March 2015.
Finally, the L.Y.NX. 9 Mobile Hybrid Controller for Android and PC is bringing the R.A.T.'s modular design philosophy to the controller. Gamers will be able to use a variety of parts with the Controller Brain to create a controller to meet their needs. A variety of parts like a QWERTY keyboard and a device holder can create the perfect set up for Android based smartphones, smart TVs, and tablets or Bluetooth enabled Windows devices.
The controller brain comes with a built in microphone and can be tweaked with an Android app. The buttons are designed to survive over a million presses.
The L.Y.NX. 9 will cost $329.99 USD and is available for pre-order. Like the Tritton Swarm, the L.Y.NX. 9 will ship in March 2015.