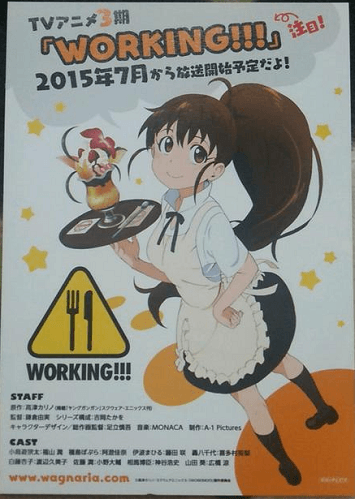 A flyer that is inserted into the thirteenth manga volume of Working!!, as first discovered by Twitter user nobunaga421 and reported by Yaraon, has revealed that the third anime season for the series will start airing in July 2015. The title will be similar to past versions as the only change has been an added exclamation point making the official title Working!!!.
A-1 Pictures will return to animate the series and at the moment it is unknown exactly how much of the source material the third season will cover, as there is much left to be tapped since although the manga ended its nine year run in Japan last month, the second season aired back in 2011.
It is worth noting that NIS America has licensed and released both seasons of Working!! in North America under the name Wagnaria!!, meaning that if they follow suit with this third season it will likely be called Wagnaria!!! as well.