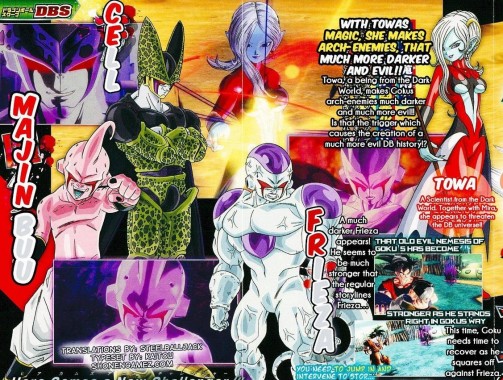 Thank you V-Jump Magazine for another great scan this time confirming Dragon Ball GT fan favourite Super Android 17 and Super Saiyan God Goku as playable characters in the upcoming game Dragon Ball Xenoverse. Super 17 will sport his signature ultimate attack, Shocking Death Ball and hopefully that awesome Gatling Gun attack he has had in past games such as Infinite World. The other huge news for the scan was that an exclusive anime is being created to tell the story of Xenoverse but it is not clear if this is an intro like past games have had or a decent length feature.
The scan also reiterates on the whole time traveling aspect of the story and how Towa and Mira (the new villains of this game) will take control of past villains, amplifying their power and their evilness. Frieza, Cell and Kid Buu are all confirmed to be receiving this treatment which gives them a nice bleeding eyes effect. The translation reads that this powered up Frieza is much stronger than the original and that Goku will need to rest, where is most likely where your custom character interferes to provide Goku some time.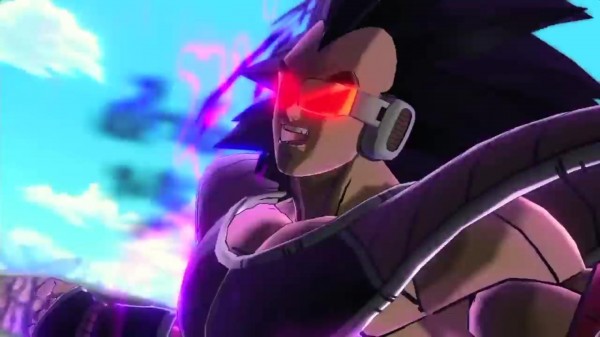 Keep checking back with Capsule Computers over the weekend as more Dragon Ball Xenoverse news will be revealed as Jump Festa takes place in Japan. The full game is slated to be playable there and a new trailer is also being released. Dragon Ball Xenoverse releases February 12th in Europe and Australia, the 5th in Japan and the 17th in America for the PS3, Xbox 360, PS4, Xbox One and PC through Steam. Click the full scan below to check it out in full size. We would like to acknowledge ShonenGameZ for providing the scan.