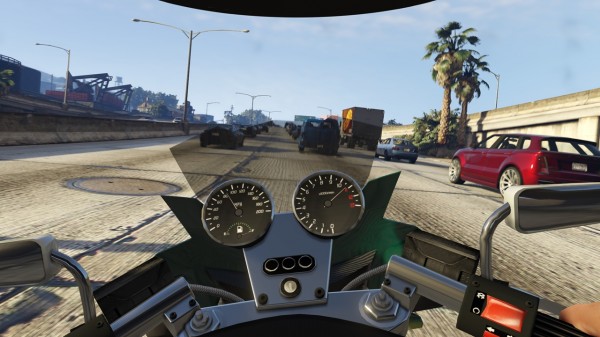 Okay, so if all that exclusive content for returning players still had you unsure about purchasing and playing through Grand Theft Auto V all over again would be worth it, now you will be so sure. Rockstar have released a trailer showcasing the new "First-Person Experience" for the enhanced re-release on PlayStation 4, Xbox One and PC, and it is the furthest thing from those quick-and-easy PC mods people have made.
Not only can you switch between first-person and third-person at any time (in-vehicle, during a shootout, whilst behind cover and in the midst of a violent ragdoll moment), but every vehicle has had its interiors modelled in detail, a more traditional FPS control scheme has been integrated, the targeting system offers more options and 3,000 new weapon animations have been added. Oh, and the mode is accessible in both single-player and GTA Online. Check out the breath-taking trailer below, as well as our gallery of brand new screenshots.
Grand Theft Auto V for the Xbox One and PlayStation 4 will be available on November 18, and for PC on January 27, 2015.