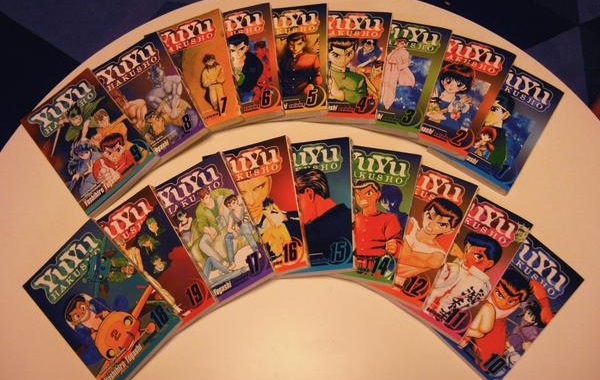 Viz Media have brought back the classic delinquent manga Yu Yu Hakusho by reprinting all 19 volumes of the series, this was revealed in a recently added photo on the company's official twitter page showing all the books fanned out across a table.
Created by Hunter X Hunter mangaka Yoshihiro Togashi, the series was first published in Shonen Jump Magazine from 1990-1994 and has since been adapted into an anime series, OVAs and two movies. Not only have Viz reprinted the series, but they have also made it digitally available via Google play, Kindle and their own site. Check out Viz's synopsis of the manga down below.
Yusuku Urameshi was a tough teen delinquent until one selfless act changed his life…by ending it. When he died saving a little kid from a speeding car, the afterlife didn't know what to do with him, so it gave him a second chance at life. Now, Yusuke is a ghost with a mission, performing good deeds at the beshest of Botan, the spirit guide of the dead, and Koenma, her pacifier-sucking boss from the "other side." But what strange things await him on the borderline between life and death?
Let us know what you think about the reprint of Yu Yu Hakusho by leaving us a comment.