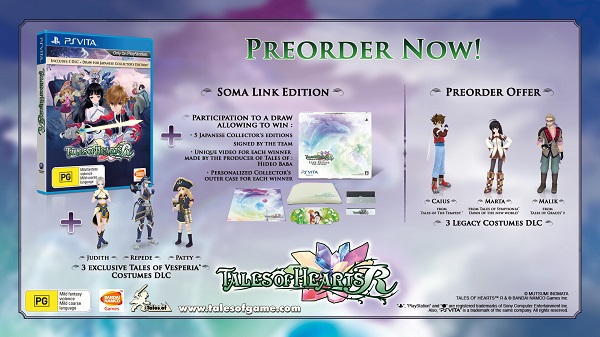 With Tales of Hearts R set to be released in Europe and Australia on November 13th, Bandai Namco has announced a number of pre-order bonuses as well as a special Day One version of the game. Those who pre-order the game will be given three pieces of free DLC, all of which are costumes of previous characters in the series, details below:
The Legacy Costume of Caius from Tales of The Tempest for Kor
The Legacy Costume of Marta from Tales of Symphonia Dawn of the New World™ for Kohaku
The Legacy Costume of Malik from Tales of Graces F for Gall
Those who buy a launch copy of Tales of Hearts R will also be given the Soma Link Edition which comes with not only a set of free Tales of Vesperia outfits for Ines, Kunzite, and Beryl but also a participation code that can be entered to win one of five exclusive Japanese collector's editions. This grand prize contains the following bonuses:
Japanese Collector's editions of Tales of Hearts R signed by  the team
A unique 'congratulations video' from Hideo Baba himself (Producer on the Tales Of series) will be shot for each winner
A personalised outer case with the name of each winner will be created for the occasion.