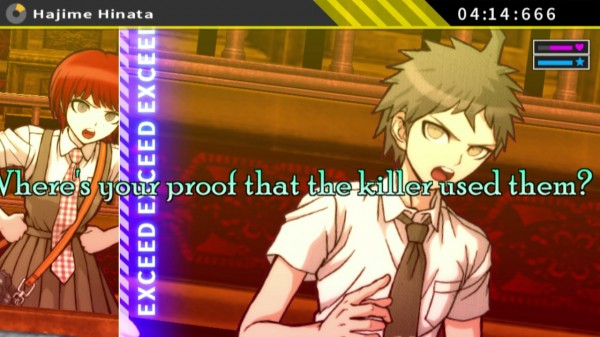 In a little under a month, Danganronpa 2: Goodbye Despair will be released in North America and Europe and because the release date is growing closer NIS America has released a new batch of screenshots for the game that highlight some of the new elements that have been introduced in class trials.
The company describes each of the elements below:
Logic Dive  – You'll skateboard through a glowing path, interrupted by questions. Answering correctly will lead you down the right path, but the wrong answer will throw you off course and reset the Logic Dive!
Hangman's Gambit – Letters are flying across the screen, and you have to pick out the ones you need to spell out your key evidence! Correct spelling lands you points, and you can fuse like letters together to form larger yet stationary letters that are worth even more points! But these big letters will detonate if you're too slow to use them, and if mismatched letters collide with each other, your health bar will take a big hit!
Rebuttal Showdown  – Characters won't just sit back and let you talk this time around. Your arguments can be interrupted, and you'll have to use evidence to cut down their arguments in this frenetic, one-on-one debate! The tropical sun's bringing some serious heat to the Class Trial!