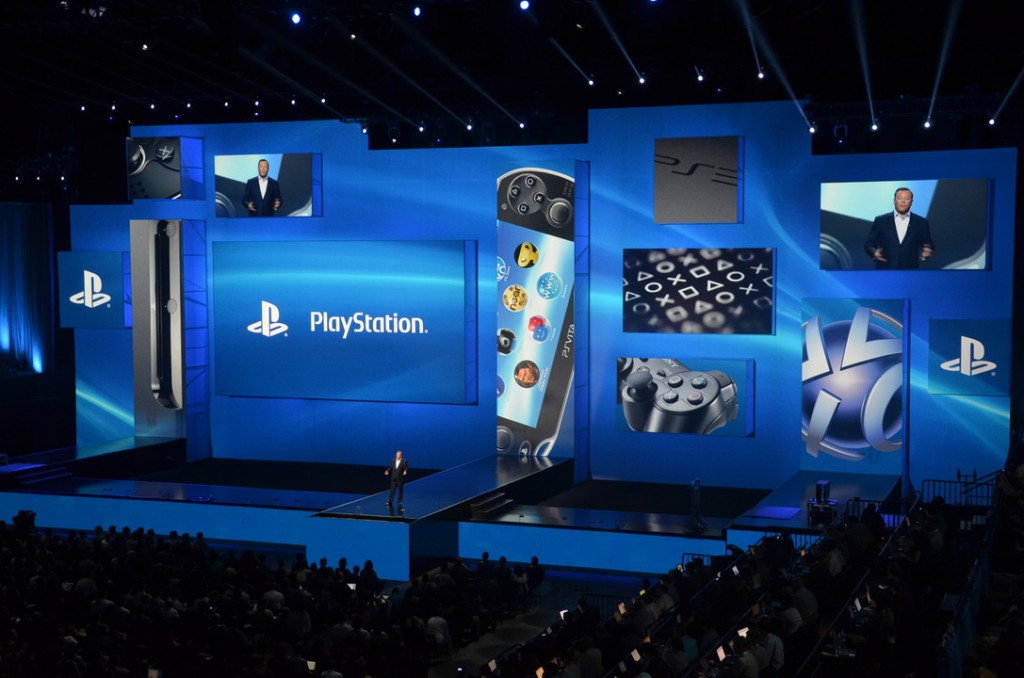 Ahead of their E3 2014 showing, Sony have revealed their complete E3 2014 line-up, detailing the entire showcase of titles they have planned for the event. Sony will be representing all of their current consoles, that being the PlayStation 4, PlayStation 3 and PS Vita.
The complete line-up for Sony at E3 2014 is as follows:
PlayStation 4
Apotheon (Alientrap)
Assault Android Cactus (Witchbeam Games)
Axiom Verge (Thomas Happ Games)
The Binding of Issac: Rebirth (Nicalis)
Chasm (Discord Games)
CounterSpy (SCE / Dynamighty)
Destiny (Activision / Bungie)
Diablo III: Ultimate Evil Edition (Activision Blizzard)
Disney Infinity 2.0: Marvel Super Heroes (Disney Interactive)
Driveclub (SCE / Evolution Studios)
EarthNight (Ceaversoft)
EA Sports UFC (EA Sports)
Galak-Z: The Dimensional (17-Bit)
Guilty Gear Xrd: Sign (Aksys Games)
Helldivers (SCE / Arrowhead Game Studios)
Hohokum (SCE / Honeyslug)
Jamestown Plus (Final Form Games)
Killzone: Shadow Fall 'Intercept' DLC (SCE / Guerrilla Games)
LEGO Batman 3: Beyond Gotham (Warner Bros.)
MLB 14: The Show (SCE / SCE San Diego Studio)
N++ (Metanet Software)
Nidhogg (Messhof)
Night in the Woods (Finji Games)
Nuclear Throne (Vlambeer)
Oddworld: New 'n' Tasty (Just Add Water)
PlanetSide 2 (SOE)
Plants vs. Zombies: Garden Warfare (EA)
Project Cars (Slightly Mad Studios)
Road Not Taken (Spry Fox)
Samurai Warriors 4 (Tecmo Koei)
Secret Ponchos (Switchblade Monkeys)
Shadow Warrior (Devolver Digital)
Source (Fenixfire)
The Crew (Ubisoft)
The Golf Club (HB Studios)
The Order: 1886 (SCE / Ready at Dawn)
Valiant Hearts: The Great War (Ubisoft)
Velocity 2X (FuturLab)
PlayStation Vita
Akiba's Trip: Undead & Undressed (XSEED Games)
Big Fest (SCE / On The Metal)
CounterSpy (SCE / Dynamighty)
Danganronpa 2: Goodbye Despair (NIS America)
Disgaea 4: A Promise Revisited (NIS America)
Freedom Wars (SCE / SCE Japan Studio / Shift / Dimps)
Gravity Crash Ultra (Just Add Water)
Gunship X (Hidden Elephant)
Home (Benjamin Rivers)
Hotline Miami 2: Wrong Number (Devolver Digital)
Hyper Light Drifter (Heart Machine)
Invizimals: The Alliance (SCE / Novarama)
Legend of Raven (Nicalis)
MechRunner (Spark Plug Games)
Metrico (Digital Dreams)
MLB 14: The Show (SCE / SCE San Diego Studio)
Murasaki Baby (SCE / Ovosonico)
One Way Trip (Beret Applications)
PlayStation Vita Pets (Spiral House)
PixelJunk Shooter Ultimate (Double Eleven)
Race the Sun (Flippfly)
Rogue Legacy (Cellar Door)
Super Exploding Zoo (Honeyslug)
Switch Galaxy Ultra (Atomicon)
To Leave (Freaky Creations)
PlayStation 3
Aaru's Awakening (Lumenox)
CounterSpy (SCE / Dynamighty)
Dynasty Warriors: Gundam Reborn (Bandai Namco)
Helldivers (SCE / Arrowhead Game Studios)
Hohokum (SCE / Honeyslug)
Kingdom Hearts HD 2.5 Remix (Square Enix)
Persona 4 Arena Ultimax (Atlus)
Starwhal: Just the Tip (Breakfall)
Tales of Xillia 2 (Bandai Namco)
Teslagrad (Rain Games)
The Swapper (Curve Studios)
Zen Pinball 2: The Walking Dead Table Pack (Zen Studios)
They will begin streaming their official conference at 5.45pm Pacific Time, with the conference beginning right on 6pm. Sony is set to make some major announcements during their conference. What those announcements may be is anyone's guess. Stay tuned for further information as it comes to light.