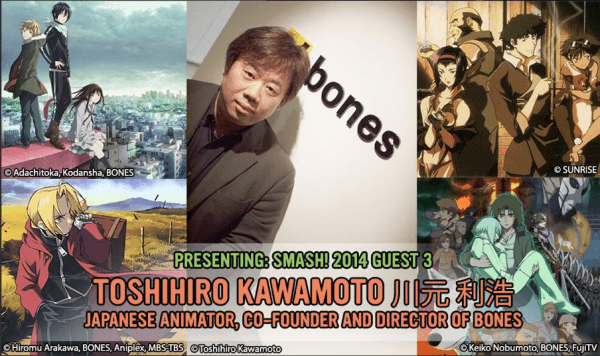 "SMASH!" today announced the next special guest for their upcoming 2014 convention and it's none other than Japanese anime royalty Mr. Toshihiro Kawamoto. If you're an anime fan of any caliber (which you are considering you're reading this article), chances are you've seen a series that Mr. Kawamoto has been a part of in one way or another.
As the lead character designer for the highly acclaimed series "Cowboy Bebop", Toshihiro Kawamoto  is held in quite high regard for both anime fans and other industry workers. Through his life he's worked on many shows like "Wolf's Rain", "Gosick", "Hero Man" and the recently aired series "Noragami". Mr. Kawamoto is also the co-founder of the animation studio "BONES", one that I'm sure most of you are well aware of.
"Many Australian fans love classic shows such as Gundam and Cowboy Bebop. To have both Mr Kawamoto and Mrs Mitsuishi attending SMASH! 2014 is a dream come true for fans who grew up with these shows in the '90s and '00s." – Ray Elinon
With only a few months away, this years "SMASH!" convention is looking to be absolutely amazing (not to say the other years haven't).The 2014 conventionon is being held at Rosehill Gardens in Sydney on the 9th and 10th of August. Tickets will go on sale from the 19th of May with prices ranging from $25 to $55. Remember to stick to the site for any and all new information as it is released.