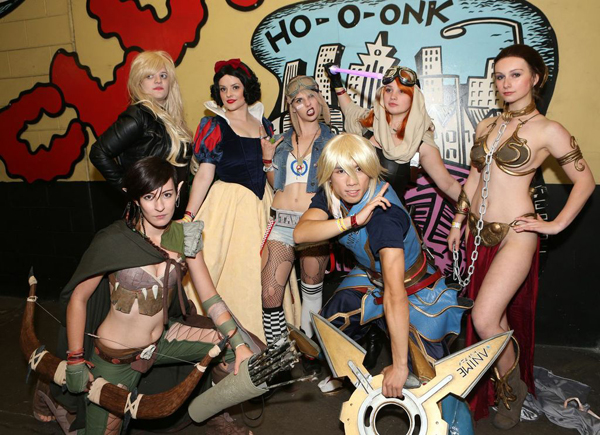 Yesterday was the annual Free Comic Book Day, and if you were like me you would have traveled through the horrid conditions to your closest comic book store to get your hands on free samples of what's to come (and hopefully snagging a bargain or two along the way at one of the many sales). What you may not realise though is that the REAL fun and excitement of FCBD happens after dark! Luna Park played host to this year's Free Comic Book Day After Party. A late night celebration of everything geek culture has to offer. From the giant projection of Godzilla to the Cosplay parade, it was the perfect place to spend an evening.
The main attraction was definitely the Cosplay Parade, where some of Australia's most talented cosplayers took centre stage and showed off their hard work. I have a lot of respect for the amount of time and effort these guys put into their costumes and showcases like these are a great place for them to strut their stuff. From couples costumes featuring Jack Sparrow and Angela to a book-accurate Judge Dredd, all of your favourite heroes and villains from all over pop culture came to life right before your eyes.
While the cosplay was the focus of the event, everyone's jaw hit the ground when the lights turned down low, and Tom Baker's Doctor stepped out of the T.A.R.D.I.S. and started stripping! Yep you read that right, a burlesque troupe who specialise in cosplay performances made a special appearance at FCBD and showed off some of their stuff. The performance was a little risque without being too over the top, and everyone in attendance got a great laugh out of it.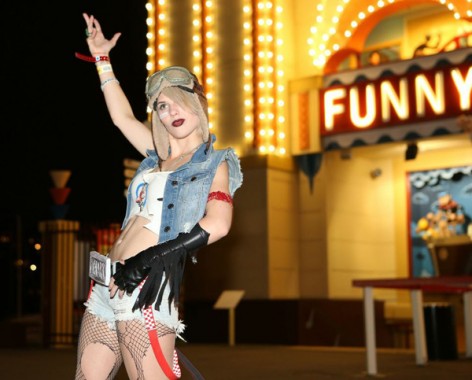 As if that wasn't enough to make a great evening, then the floor got opened up to a massive dance party. Nova 96.9 were in attendance, giving out prices to the best dancers on the floor. In the spirit of the event, the prizes were all double passes to see the upcoming Godzilla film due out in a fortnight's time. As cool as dance parties were, the event was held at Luna Park which means rides galore! Seeing your favourite superheroes scream their lungs out while going down a rollercoaster is a sight to behold… Almost as much as walking past a ride and seeing Freddy Kreuger just sitting on it with a big smile on his face.
A big shout out goes to Kinokuniya and Luna Park for hosting the event. Those guys sure know how to throw a party! We have a few choice shots from the night below but to see even more of the action, search for the hashtag #LunaFCBD on Instagram or Twitter. After the awesomeness that was Free Comic Book Day, there is hardly a break before Supanova Sydney kicks off so make sure you stay tuned to Capsule Computers for all the comic, anime and pop culture news as it becomes available.