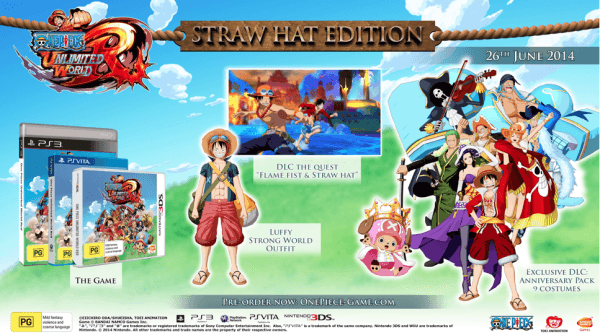 "Bandai Namco Games Europe" today announced not one but two preorder-exclusive editions of their upcoming action/adventure/RPG title "One Piece: Unlimited World Red". As if it wasn't already good enough that the game is coming to the West but now we're actually getting some "goodies" with our preorders, something you don't see all that often with these types of games. "Bandai Namco" are offering up two different editions of the game: The "Chopper Edition" and the "Straw Hat Edition", both rimming with some fantastic-sounding extras.
Straw Hat Edition:
– One Piece Unlimited World Red full game
– Exclusive Costumes: 10 outfits – Luffy Strong World Outfit & the Anniversary Pack with 9 outfits commemorating Japan's 15th anniversary of the One Piece animated series.
– A unique quest where the 2 brothers are re-united: "Flame Fist & Straw Hat"
Chopper Edition:
– One Piece Unlimited World Red Day 1 Edition
– Key Holder of Chopper
– 10 stickers of the Straw Hat Crew members and the game logo
– Wall scroll of Chopper
– Lanyard with Chopper
– Artbook
– The Takoyaki DLC Pack (3 costumes & 1 quest)
Unfortunately "Bandai Namco" has not provided us with a promotional image for the "Chopper Edition" but one for the "Straw Hat Edition" can be seen at the top of the article. With extras like that it's hard to pass up running into your local video game retailer to preorder the game right now. There's so much content within these games and the special editions are just adding more into what already looks like one hell of a "One Piece" game!
"One Piece: Unlimited World Red" will be purchasable on the 27th of June and will be released on the PlayStation 3, PlayStation Vita, Nintendo Wii U and Nintendo 3DS so no matter what console you have, chances are you'll be able to get your hands on a copy of this excellent game. Still not sold? Well head down below to the featured video section to check out a trailer for the game and don't forget to let us know what you think in the comments section just a little under that!