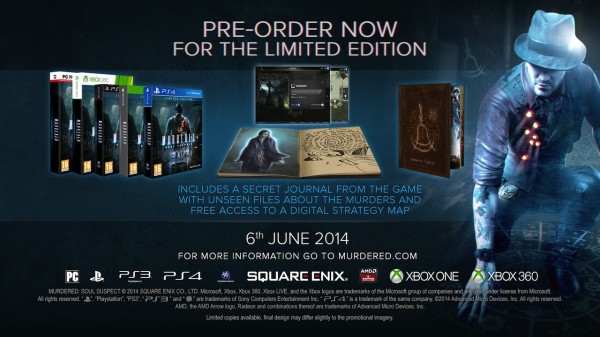 The citizens of Salem, Massachusetts are no strangers to tales of the paranormal; imaginations ran wild after the 'Salem Witch Trials of 1692', which forms a large part of the town's identity to outsiders. But what secrets still lay buried in Salem? As Ronan, gamers will be able to uncover the truth in Murdered: Soul Suspect.
Check out the trailer 'Buried' at the bottom of this article. You'll find the Limited Edition of the game revealed at the end of the video, which is now available for pre-order. As seen above, the Limited Edition will include a physical copy of the journal used by Ronan and Joy to hunt down the lead protagonist's killer and features written and visual clues about the murders terrorising Salem. It will also include free access to an Interactive Digital Strategy Map, which will be accessible via computer or tablet. The map will aid players in finding hundreds of collectibles, side quest locations and all of Salem's haunting landmarks.
Murdered: Soul Suspect is being published by Square Enix, and will be available for the PlayStation 4, PlayStation 3, Xbox One, Xbox 360 and PC on June 6.