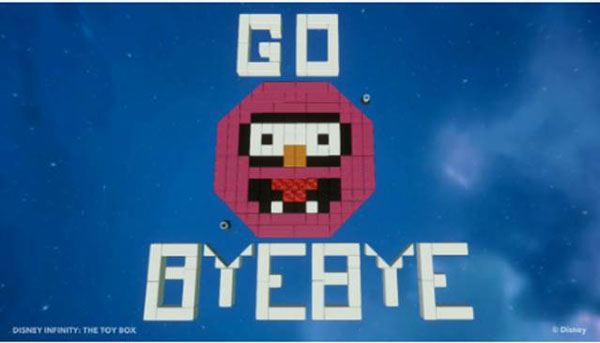 After a bit of a hiatus, we have brought the Disney Infinity Toy Box Challenge back in a new and improved way! The folks over at Disney are always working hard to bring the Disney Infinity fans a seemingly never-ending supply of brand new content in the form of new Toy Box Maps. There are five free maps for players this week, and if that wasn't enough we also have the Toy Box Countdown, showcasing the last week's winning entries, as well as some information about upcoming challenges and how you can be a part of it. So what are we waiting for!
---
 TOY BOX COUNTDOWN
This week's Toy Box Countdown is all about those colourful puppets, you who I'm talking about. Join Kermit the Frog, Gonzo, Miss Piggy, Animal and the rest of the crew in this week's five free toy box maps:
The Muppet Show-

As guest star you must help Kermit, take Waldorf/Statler to the VIP box, paint Miss Piggy and find Animal's drum set.
Muppet Babies- Join The Muppets adventures! Find Animal Idol and save Piggy on the Death Star. (Hint: Escape through the trash chute!)

Chef's Cuisines-

The Swedish Chef has prepared quite a feast! You decide to race through his kitchen instead. Ready, set, BØRK BØRK BØRK!
RainbowConnection- Why are there so many songs about rainbows? Enjoy a race from Kermit's swamp to the streets of Hollywood!

Most Wanted-

Inspired by Muppets Most Wanted.  Goal: Escape prison and get the real Constantine. Rules: Don't change weapons and no flying.
Let's take a bit of a closer look at these maps, as well as some tips and tricks for making your Toy Box the best it can be, with this week's installment of Disney Infinity: Toy Box TV.
Check out last week's videos here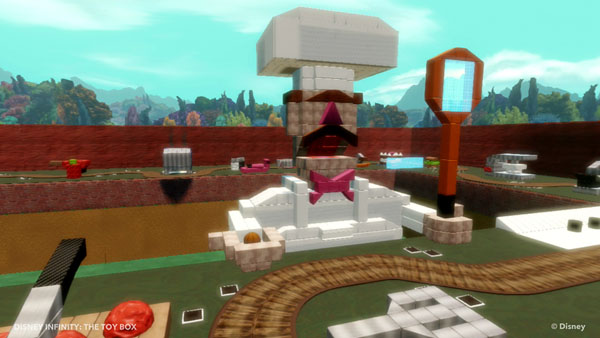 TOY BOX SUBMISSION CHALLENGE
This week's Toy Box Submission Challenge will need you to hop down to your local arcade, put a couple pennies in the machine and get ready to hit the grid. Well, ok not really, but this week's theme is all about Tron. Whether it is the ultimate light-cycle course, or a battle arena where you fight off countless virus-riddled soldiers, just make sure your Tron Toy Box is the best it can be.
As always, you can create and share your Toy Box creations though, using these instructions:
Xbox 360, PlayStation 3, Wii U
Bring up the Pause Menu and select "Online/Multiplayer."
Then select "Toy Box Share" > "Disney's Toy Boxes" > "Submit to Disney."
Follow the prompts. You'll be asked to give your Toy Box an original name and description. Choose carefully – they will be shown to everybody if your Toy Box is featured.
iPad
Bring up the Pause Menu and select "Toy Box Share."
Then select "Disney's Toy Boxes" > "Submit to Disney."
Follow the prompts. You'll be asked to give your Toy Box an original name and description. Choose carefully – they will be shown to everybody if your Toy Box is featured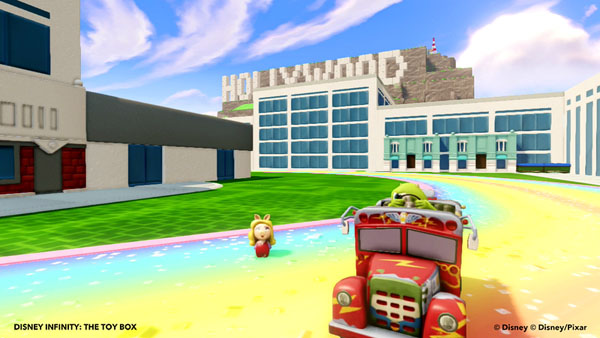 ---
That's it for the first installment of the revamped Disney Infinity Toy Box Challenge and the end of another week of Disney Infinity updates for you guys. Make sure you get creating and come up with the best Toy Box to fit this week's theme to be in with a chance to have your masterpiece showcased around the world. Let us know your thoughts on this week's winners in the comments below and remember to stay tuned to Capsule Computers for all the Disney Infinity news as it becomes available