It's crazy to think that Batman's first appearance was in Detective Comics #27, released on March 30, 1939. 75 years on and 'the Caped Crusader' is still one of the most popular and iconic characters , practically across all mediums. In fact, Batman is the most successful super hero film and video game franchise, and remains the measuring stick for comic book sales. To celebrate the milestone of Batman's 75th anniversary, DC Comics, DC Entertainment and Warner Bros. Entertainment are holding a number of events and releases. Kevin Tsujihara, Chief Executive Officer, Warner Bros. Entertainment and Diane Nelson, President of DC Entertainment and President & Chief Content Officer, Warner Bros. Interactive Entertainment, said;
Batman is an incredibly important property with multi-generational appeal across all of the Studio's businesses, and we're proud to celebrate this milestone anniversary. From billion-dollar blockbuster films to TV, home entertainment, video games and consumer products, The Dark Knight continues to resonate with audiences worldwide and rightfully deserves his place as a global pop culture icon for the ages. – Tsujihara

Batman is one of the greatest characters ever created, in comics or elsewhere, and even after 75 years he continues to wildly fascinate fans.  He is an integral part of pop culture and has successfully captured the imagination of the entire world. The origin of Batman, Bruce Wayne and the famous citizens of Gotham are legendary and likely a story you know inside out, even if you've never picked up a comic book in your life, and that speaks volumes to the character's immense popularity and the constructs of the original mythology. – Nelson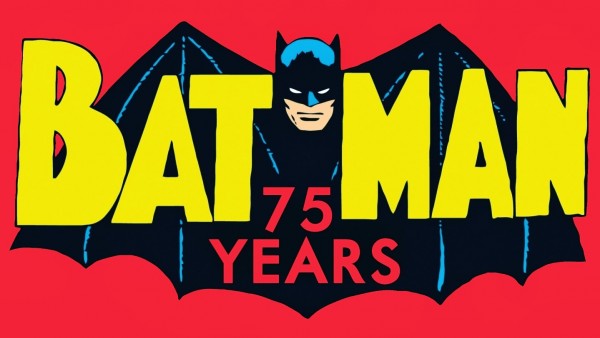 A newly dedicated section of the DC Comics website has also been launched today at www.Batman75.com and features a huge Batman 75 Sweepstakes, which is (unfortunately) only open to U.S. residents. The aforementioned key activities planned for the Batman 75th anniversary celebration include:
DC Entertainment – DC Entertainment has an action-packed year filled with new Batman titles, commemorative issues and variant covers, including the recently released special edition of Detective Comics #27 commemorating Batman's first appearance in the book in 1939, the new weekly series Batman Eternal launching April 9, and upcoming exclusive Batman variant covers planned for San Diego Comic-Con International in July.
Batman Day – DC Entertainment is also partnering with thousands of comic retailers, book stores and libraries for "Batman Day" on Wednesday, July 23. Each location will host a Batman 75th anniversary celebration and offer fans a free, special edition Batman comic.
Interactive Entertainment – Warner Bros. Interactive Entertainment has invited celebrated fashion designer Asher Levine to create a cape and cowl based on the Batsuit of the recently announced Batman: Arkham Knight video game developed by Rocksteady Studios.  Favourite contemporary artists will have the opportunity to use the replicas as a blank canvas to produce their own, original interpretations of Batman's iconic attire for an all new "Cape/Cowl/Create" art exhibit that will be showcased at San Diego Comic-Con International in July.
Home Entertainment – Warner Bros. Home Entertainment will bring fans an array of new Batman titles throughout the year, including the highly anticipated release of the Batman '66 TV series for the first time ever. Other new releases include animated films Son of Batman (May 7) and Assault on Arkham (Winter 2014). Additionally, a 25th Anniversary Edition of Tim Burton's Batman feature film will be released in 2014.
Animation – Warner Bros. Animation has created two all-new Batman animated shorts set for debut in April, with fan-favourite producers Bruce Timm (Batman: The Animated Series) and Darwyn Cooke (Batman Beyond) each presenting a unique and familiar take on the Batman animated universe. In addition, Timm will participate in a Batman 75th all-star panel at WonderCon in Anaheim on Saturday, April 19, which will also feature an exclusive premiere of Cooke's animated short based upon Batman Beyond.
Television –Warner Bros. Television is in production on the pilot episode of the highly anticipated Gotham, a new one-hour drama for FOX which explores the origin stories of eventual police commissioner James Gordon and the villains that made Gotham City famous. In Gotham, Detective Gordon (Ben McKenzie – Southland) will encounter a familiar cast of characters – including a young Bruce Wayne – as he fights to keep the city safe. Executive producer Bruce Heller (The Mentalist, Rome) wrote the pilot, which is being directed by executive producer Danny Cannon (CSI series, Nikita)
Pictures – As Batman's 75th anniversary is celebrated in 2014, Warner Bros. Pictures will begin production of Zack Snyder's untitled Superman/Batman film starring Henry Cavill, who reprises his role as Superman/Clark Kent, and Ben Affleck as Batman/Bruce Wayne. The film, slated for release summer 2016, will bring the two most iconic Super Heroes of all time together for the first time on the big screen.
Consumer Products – Warner Bros. Consumer Products has partnered with an array of licensees to celebrate Batman's 75th Anniversary through special edition and limited-release products. From the classic 1960s TV series to modern day comics, Batman's presence will be larger than ever in celebration of his legacy through everything from toys to t-shirts.