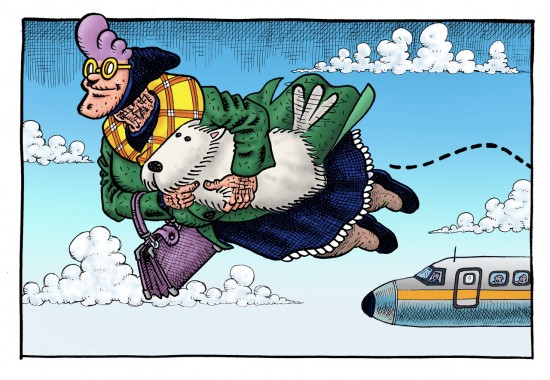 Titan Comics have today announced that they are bringing the British cult comic-strip Psycho Gran to the digital platform. David Leach's  Psycho Gran tells the surrealist slap-stick story of a five-foot high, mauve-haired, bespectacled psychotic granny with a pan-dimensional, sentient handbag called Percy, a flying dog called Archie and a pathological loathing of rudeness.
Not only that but expect to see your fair share of Kaiju, bag snatchers, death-row inmates, explosive diarrhea, those annoying SOBs who will insist on using their bloody mobile phones in cinemas and innocent people just minding their own business!
What more can be said really? You just simply have to check this one out! You can grab the 28-page exclusive book through ComiXology here. So sit back, hit download and enjoy some classic British dark humor. Also remember that if you are looking for something a little less out-there, Titan Comics are also the guys printing the new Doctor Who comic book series. Make sure you always stay tuned to Capsule Computers for all the Titan Comics news as it becomes available.