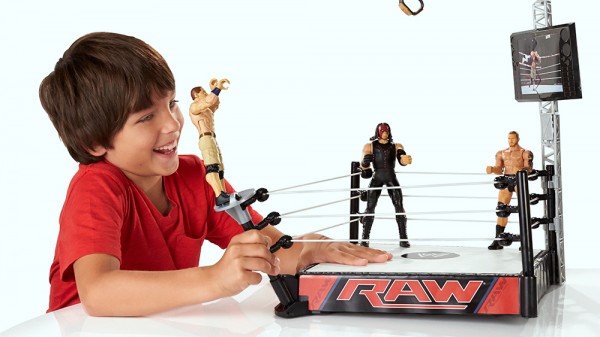 WWE games may have changed publishers, but it looks like children of all ages can except more Mattel-made WWE toys for years to come – through to 2019, in fact – as the two companies have announced a multi-year extension of their toy licensing agreement.
Mattel and WWE have worked together since 2009 (seems like much longer) and have released a diverse range of toys across over 50 global markets around the globe. In the U.S., WWE action figures rank as the number 1 action figure property. Mattel deepened their WWE portfolio with innovations such as the FlexForce figures and Brawlin' Buddies, which personally brings me back to my childhood. Doug Wadleigh, Senior Vice President, Global Brands Marketing, Boys and Entertainment for Mattel, said;
WWE and Mattel's action figure line is consistently ranked in the top two thanks to our creative marketing campaigns, tremendous retail support and seamless infusion of cutting-edge innovations. We are excited to continue our partnership with WWE as they expand their global footprint and leverage our global scale to deliver WWE toys to kids around the world.
Casey Collins, Executive Vice President, Consumer Products, WWE, added;
Mattel has invested significant resources in consumer insights and raised the bar for design innovations for WWE, while expanding our line into new categories. Their unparalleled support has allowed us to further engage fans through authentic, quality products, meaningful experiences and standout presence at retail.
With more than 15 million viewers in the U.S. tuning into WWE programming each week, it's a no-brainer for Mattel to want to continue bringing authentic, fun products to store shelves for WWE fans to enjoy, especially with the its focus being put so squarely on family entertainment as of late.