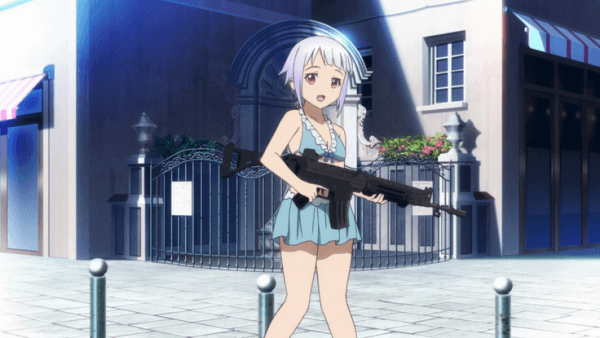 You may remember that Sentai Filmworks had picked up the license for Upotte!! back in 2012 and if you've been waiting on that release then you will be happy to hear that not only is it coming soon, on February 18th, but it will also be sporting an English dub and the OVA that was released a few months after the ten episode series ended.
Today the English dub cast has been announced and it is being directed by Leraldo Anzaldua. The announced English cast can be found below:
| | |
| --- | --- |
| Funco (FNC) | Genevieve Simmons |
| Ichiroku (M16A4) | Brittney Karbowski |
| Sig (SG550) | Emily Neves |
| Elle (L85A1) | Nancy Novotny |
| Ichihachi (AR18) | Juliet Simmons |
| Sako (SAKO Rk95) | Maggie Flecknoe |
| Galil (Galil AR) | Beth Lazarou |
| Agu (AUG A1) | Molly Searcy |
| Tei (T91) | Tiffany Grant |
| Fara (FARA 83) | Cynthia Martinez |
| Hachihachi (SR88A) | Allison Sumrall |
| Saa (SAR21) | Beth Lazarou |
| Faru (FAL L1A1) | Shondra Marie |
| Jiisuri (G3A3) | Chelsea Ryan McCurdy |
| Empi (MP5A2) | Brittany Djie |
| Springfield | Jovan Jackson |
| Ms. Fujiko (FG42) | Shelley Calene-Black |
| Garand | Andrew Love |
In case some of you don't remember that this is an anime about firearms that have human forms, Sentai Filmworks has also provided a brief synopsis of what anime fans can expect from the series which can be found below:
Kiss kiss, bang bang! The arms race takes on a startling new development when the arms come with heads, legs, and very feminine bodies attached! Yes, at Seishou Academy every girl is literally a lethal weapon, and they're all gunning for the top shot at getting their own personal serviceman! Needless to say, it's going to be difficult for newly recruited human instructor Genkoku to adjust to working with a living arsenal of high caliber cuties with tricky names like FNC (Funko), M 16A4 (Ichiroku), L85A1 (Eru), and SG 550 (Shigu). Especially since many have hair triggers and there's no bulletproof vest that can stop a really determined co-ed!

Genkoku will have to rewrite the operator's manual on student/teacher relationships, and pray that his job description won't include having to field strip and reassemble one of his cadets in the dark. But unfortunately (for him) FNC's already thinking about becoming his personal weapon, and she usually gets what she aims for! get ready for explosive situations, amour-piercing rounds, cheap shots galore and one very shell-shocked homeroom instructor!