Ever since the announcement of Sonic Lost World we have known that a third Sonic game would be making its way to the Nintendo 3DS and Wii U and today that game was officially unveiled. Sonic Boom could mark one of the biggest franchise shake ups in Sonics history, incorporating character redesigns and core changes in game play from what we have seen ever since Sonic made the move to the third dimension. Sega is touting Sonic Boom as a new 'branch' in the Sonic franchise, so fans of the old designs need not worry that this will be the only direction Sonic will be heading in the future.
Interestingly, the game will serve as a prequel to the new CGI TV series (also titled Sonic Boom) and will have a core focus on collaborative gameplay. The game is being developed by Big Red Button Entertainment on the Wii U (founded by former Naughty Dog employees) while the 3DS version is being developed by Sanzaru Games in collaboration with Sonic Team (although it is not clear if Sonic Team is working on both versions or only the 3DS version).  Sonic Boom will take advantage of the hardware of both the Wii U and Nintendo 3DS and will feature traditional elements of past Sonic games such as speed as well as new elements such as exploration, combat and a new Enerbeam tether mechanic that will allow the Sonic Boom world to be discovered in totally unique ways.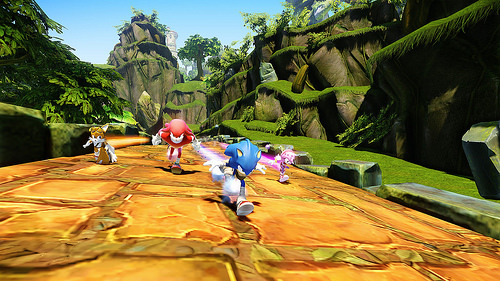 The Sonic Boom video game is only one part of this new franchise puzzle, with the television show, toys and other merchandise products such as health care and food also being part of the equation. Sega plans for all these parts of Sonic Boom to intertwine with eachother, with the game and show featuring linked narratives and world references. For full details on all things Sonic Boom, head to the SEGA Blog official site.
It definitely sounds interesting and could be a great way to bring innovation to the Sonic name after a sleight of similar titles. You can check out the games announcement trailer below and once you have done that, let us know in the comments what you think about the new direction the franchise is taking. I am willing to bet there are some pretty strong opinions out there from the hardcore Sonic fans.