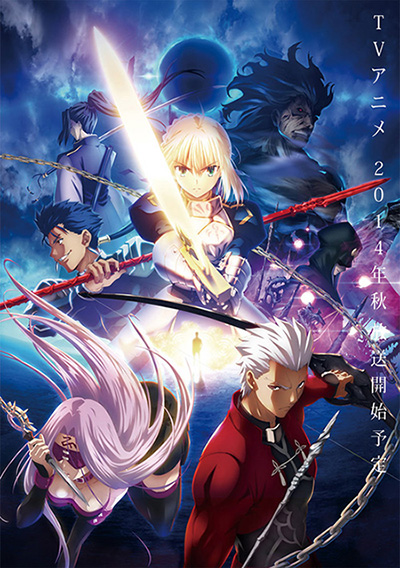 Type-Moon's popular visual novel, Fate/stay Night, is getting another anime adaptation by studio ufotable and a key visual has been posted on the official website.
From left to right the image features the Servants of the 5th Holy Grail War; Assassin, Berserker, Lancer, Saber, Caster, Rider and Archer. The visual also confirms the previously mentioned air date of Fall 2014.
In an interview in Type-Moon Ace Magazine, it was revealed that the scenario is half-way done with the original writer, Kinoko Nasu, present during meetings. Nasu is said to provide new information that wasn't included in the original.
There are also unconfirmed rumours that Nasu has prepared an original route for the new anime, but take this with a grain of salt until official confirmation.
A debut trailer was posted late last year. Studio ufotable has previously worked on other Type-Moon adaptations such as The Garden of Sinners and Fate/Zero.