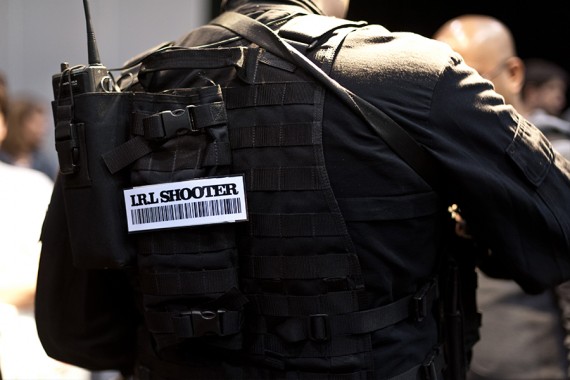 We here at Capsule Computers recently reported on some news that revolved around a little company called "IRL Shooter" who bring all the elements of a good zombie/Shooter game into reality so as to scare us while also giving us a glimpse of what it would be like to be the hero. A massive warehouse, state of the art faux-weaponry, hundreds of paid zombie/actors and a thrill you will remember for the rest of your days.
You can read about it in more detail by clicking here before moving on with the rest of the article. The folks over at "IRL Shooter" have heard what fans have to say about their thrilling experience and they've decided to add a few more awesome things into the mix just to make that experience all the more sweeter. The company has only just introduced three new promotions for Sydney players and each of them is enough to get any gamer/zombie fan excited:
·         $50 "The Infected" Ticket – Become a zombie! For just $50, zombie enthusiasts will get the chance to be one of evil Dr. Klaas's faithful undead horde with the aim of chasing players inside the game venue. Their infrared 'bites' will damage the players & earn the zombie points & XP for their character. Get your undead friends together now!

·         Free Paintball – everyone who buys a full-priced ticket for IRL will get 10 free passes plus 100 free paintballs each (1000 for the whole group) – valued at over $500, courtesy of Ultimate Paintball. With two sites in Sydney, Ultimate Paintball are the biggest and best paintball fields in NSW. This deal gets you over $500 worth of FREE paintball for you and your squad. It's the perfect way to train for IRL and it saves you money.

·         The Vixen Gamer – everyone who buys a ticket in February will get the chance to play on a team with The Vixen Gamer (Clare Costigan). Clare is a writer, presenter and gamer; she recently signed to represent IRL Shooter online. Order your ticket this month and team up with Clare!

Fact is, "IRL Shooter" still needs a bunch of money to complete their kickstarter, if they don't hit their target they wont be coming down to Sydney so I say to everyone out there: Head over to the "IRL Shooter" "Pozible" page to pre-order your tickets and back the kickstarter, there's also a whole bunch of information there that you all may be into so it's worth heading over there now just to check it out. Click here to go there now. We all cannot wait for this awesome "event" to head down to Sydney, if it is half as good as the Melbourne one than we're in for one hellish apocalypse of a time! Get into it and start backing up "IRL Shooter" now!