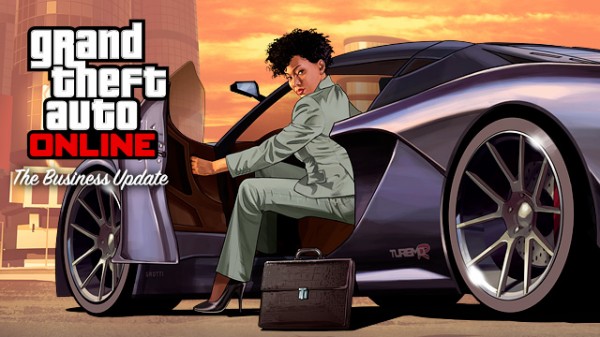 Next week, Tuesday the 4th of March, Rockstar Games are set to release 'The Business Update' for GTA Online on PSN and Xbox Live. Included will be a number of new vehicles, weapons and clothing options, and just like was the case with the Valentine's Day Massacre Special, the former two additions will be available in both GTA Online and Story Mode.
Players will have access to the Albany Alpha, Dinka Jester and Grotti Turismo R sports cars, as well as the Vestra airplane. Drop by your local Ammu-Nation to purchase the Heavy Pistol and Special Carbine. And dress for success with fresh formal and business casual attire, from suit jackets and slacks to glasses, heels and blouses. Not only that, but you'll also be able to rock some "all-business" hairdos, currency themed tattoos (douche personified) and one of many from a brand new collection of masks.
In Story Mode, your weapons will be deposited into all three characters' inventory with two full ammo-clips, and all three cars will be accessible from their garage properties. In GTA Online, you'll be able to purchase the new weapons and their attachments at any Ammu-Nation location while the vehicles will be available for purchase from either Legendary Motorsport or Elitas. A special note: this weekend is the final chance for you to grab Albany Roosevelt limousine, the Gusenberg Sweeper machine gun and all the rest of the exclusive items from the Valentine's Day Massacre Special as they will no longer be available to purchase after midnight PST this Sunday, March 2nd.
Stay tuned to Capsule Computers as we continue to bring you the latest GTA Online updates, including forthcoming details about the imminent Business Update Event Weekend, information on future Online Heists, the Capture Creator add-on, additional Assassination and Flight School missions for Story Mode and a whole lot more.