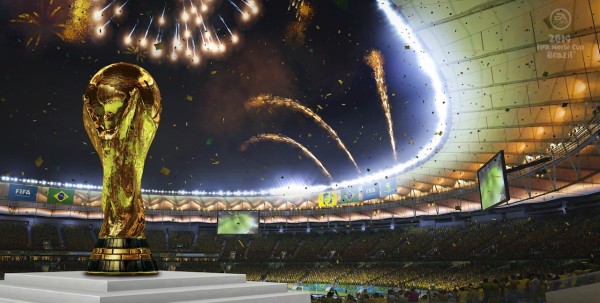 Every four years, despite being watered-down versions of what the main series entries have to offer, EA releases their FIFA World Cup officially licensed video game (obviously, being officially licensed means a bigger money deal than simply releasing a more practical FIFA World Cup DLC update). And so, like clockwork, the publisher has just announced EA Sports' 2014 FIFA World Cup Brazil.
Coming to the Xbox 360 and PlayStation 3, 2014 FIFA World Cup Brazil boasts improvements to gameplay, such as Response Dribbling and Pinpoint Passing, also featuring 100 fresh animations from passes to saves and penalty kicks. The included 203 national teams, 7,469 players, 19 officially licensed managers, and 21 new stadiums (12 of which comprise the authentic stadiums from Brazil) brings the experience to life. Furthermore, Live City events from all corners of the globe have been implemented, so basically if you choose Australia and score a goal, you'll see a fan reaction clip from Sydney… which will most likely be one of shock and amazement. The crowds will also utilise brand-new banners, flags and seat cards for the festivities' celebrations.
In terms of game modes, we are promised the deepest yet. In Road to the FIFA World Cup players can choose between any of the 203 nations and take them all the way through the tournament with up to 32 players locally engaging in the tourney (assuming that's system-linked). As you progress, you will receive tournament updates from EA Sports Talk Radio, featuring Ian Darke and Andy Goldstein, or Roger Bennett and Michael Davies (Men in Blazers), with over 50 hours of recorded content that's guaranteed to keep you up-to-date on proceedings. And then there's the online component, Road to Rio De Janeiro, which allows players the opportunity to win their way across Brazil's 12 host cities.
For those who wish to pre-order the title, you can do so here to net (subtle, but genius) exclusive game content including new celebrations, historic adidas game balls, and more. Check out the reveal trailer and screenshot gallery below.