A long time ago, I was graced with a rental from Blockbuster. You see, back then I was watching every horror movie VHS I could get my hands on, and when The Slumber Party Massacre made its way in my VCR, I fell in love with one of the campiest, yet enjoyable slasher films from the 80's. Thanks to Scream Factory, The Slumber Party Massacre will be seeing a revival on Blu-Ray with some fantastic special features in tow – set to release on March 18th.
Here are all of the drilling details:
This March 2014, loyal fans and horror enthusiasts are invited to join SCREAM FACTORY™ for the ultimate sleepover when Amy Holden Jones' THE SLUMBER PARTY MASSACRE, starring Michele Michaels (Death Wish 4: The Crackdown), Robin Stille (Sorority Babes in the Slimeball Bowl-O-Rama), Michael Villela (Wild Orchid) and Andree Honore (Strange Reality), debuts on Blu-ray™ for the first time on March 18, 2014. This highly collectible Blu-ray edition features new high definition transfer and killer bonus content. A must-have for all slasher fans and movie collectors, this definitive Blu-ray release of THE SLUMBER PARTY MASSACRE is priced to own at $24.97 SRP.

THE SLUMBER PARTY MASSACRE (1982) helped define the slasher film ethos of the 1980s. Put together by first-time director Amy Holden from a script, titled "Don't Open the Door," by celebrated author Rita Mae Brown (Rubyfruit Jungle), the film was an immediate hit for Roger Corman's New World Pictures, eventually spawning two sequels and became a staple in mom-and-pop corner video stores of the 1980s.

When Trish (Michele Michaels) decides to invite her high school girls' basketball teammates over for a slumber party, she has no idea the night is going to end with an unexpected guest – an escaped mental patient and his portable power drill – crashing the party in the cult classic, The Slumber Party Massacre.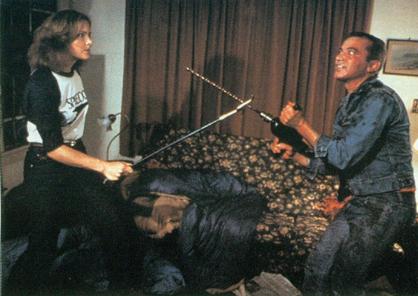 You can pre-order The Slumber Party Massacre here from Shout! Factory's official website, or snag it off Amazon by following this link. If you consider yourself a horror movie fan and have yet to witness one of the overlooked greats of the genre, you owe it to yourself to give this release a thorough viewing. It may not be the scariest, but much like other gems from the decade such as Psycho II and Prom Night II: Hello Mary Lou, it certainly made an impact in its own unique way.