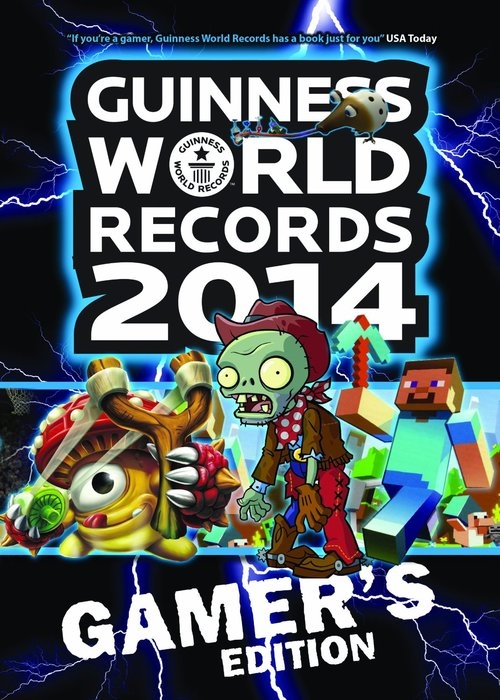 Fans of video game trivia rejoice! The wacky people who drink Guinness and write books about records have released the 2014 version of the Guinness Book of World Records: Gamer's Edition. The Managing Editor, Stephen Fall, stated that for this edition: "we decided to deliver the solid facts and fundamentals of gaming that enthusiasts demand to know." and that "these facts and more are at your fingertips with the new Guinness World Records 2014 Gamer's Edition book". This edition catalogues the notable (and some notorious) achievements within the gaming community and industry. Notable entries this year include:
Largest Video Game Collection – Currently held by a video game history and design lecturer (who else?) in America, Michael Thomasson, with a whopping 10, 607 games in said collection which is estimated to be worth $700 000. How many of these titles he has actually played is yet to be cleared up however.
Longest Marathon on a Dance Game- Also held by a Yankee who earned herself the acclaim after playing Ubisoft's Just Dance 4 for 49 hour, 3 minutes, 22 seconds. The record recipient, Carrie Swidecki, gave herself the moniker of 'Ambassador of Exergaming' and aims to fight childhood obesity in schools (a fact which I would argue should earn her more praise than the record itself).
Fastest Completion of Warner Brother's Batman: Arkham City – Sean "DarthKnight" Grayson completed the game in 2 hours, 3 minutes, 19 seconds. He would have finished earlier if some of the fights in the game had gone better. His surprisingly valid excuse for his sub-par performance was that "I'm not actually Batman".
Fastest Game to Gross $1 Billion – To the surprise of no-one, Grand Theft Auto V won the recognition of this title after selling 11.21 million units in the first 24 hours of its September 17 release which generated approximately $816 million dollars. It then went on to breach the $1 billion dollar threshold three days after release on the 20th. What is surprising is that GTA V was not just content with claiming this title within the interactive medium, but also smashed records previously held by films such as The Avengers and Avatar. If nothing else, it's a good time to be Rockstar…
Other records (which caught my eye) include:
First in-game pizza delivery system (Everquest II)
First video game to become a licensed bank (Entropia Universe)
Most fish in a video game (Runescape)
I'm thankful to know that all these questions I have asked (and not asked) can finally be answered, but I don't believe that this edition has an entry that answers the question that keeps me awake at night… namely; which game has the highest number of player character wearable hats?
My gut tells me it's probably Team Fortress 2, but the possibility that I might be wrong terrifies me…