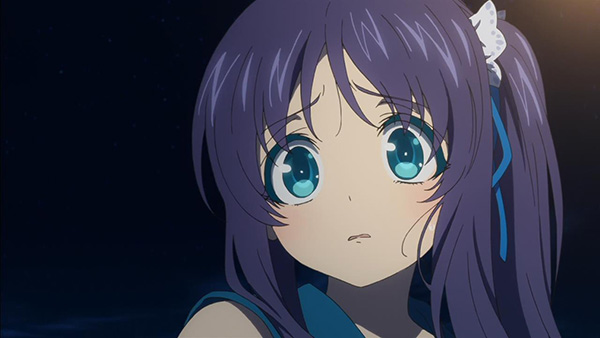 Nagi no Asukara
Episode 13 – Fingertips Beyond Reach
Wow, where do I even begin? Maybe they should stick to the wooden maiden at the next Ofunehiki ceremony? This episode finally brought preparations for the boatdrift ceremony to a head and with some pretty severe consequences. Gods of the sea typically don't mess around, whether it's Neptune or Poseidon, and Nagi no Asukara's is hardly an exception.
The start of the episode has Tsumugu caring for Manaka after snagging her in his fishing net once again in episode 12. She was going through some fairly emotional thoughts at the time, and this surface-dweller is once again her "sun" in dark times. She also reveals her admiration for the sun ever since she was little, and always looked up beyond the sea toward the unreachable.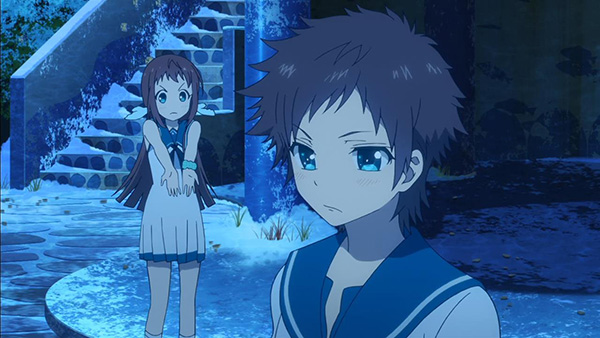 Manaka isn't the only one who is retrospective at this stage. Hikari is thinking about Manaka and her place in his heart, as well as everyone else's feelings for those around them. How the world seems to work against them, battering them around like bits of wood drifting in the ocean. He meets Manaka and tells her how he feels, following on from the awkwardly forced confession previously. What follows is one heck of a statement of love, not just for Manaka, but for everyone. Hikari sure has changed since we first saw him.
It turns out Manaka had something to say as well, but she defers it until after the ceremony. I think we all know that by now, in anime, whenever they say they'll talk about it after…well they never get the chance. Are we wrong on this point? Let's hope so. So the kids all get ready for the ceremony, leaving behind their parents who are just about ready to hibernate. The feeling these farewells give off is almost like they'll be the last. With a few more preparations, including Kaname reminding Chisaki that he confessed to her, the ceremony is about to begin!
Throughout the whole series we've been reminded about the Ofunehiki. But I don't think any of us realised just how much of a spectacle it really is. As Hikari waves the huge flag the chanting music starts and hundreds of lights along the beach are lit. Under the sea, Lord Uroko makes his own preparations and extinguishes the Sacred Fires throughout Shioshishio. The boat entourage with Akari as the "sacrifice" departs from the shore, guided by the underwater spirit fire that lights a path.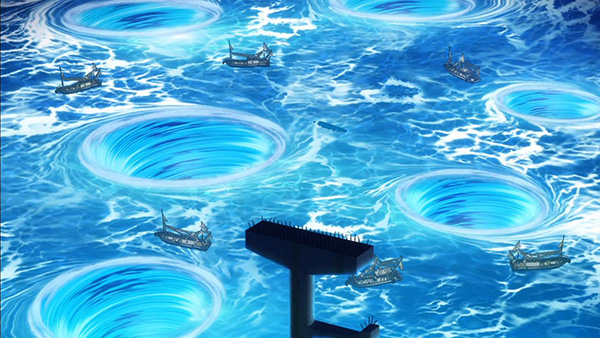 While the friends all make their wishes to the Sea God, he awakens, creating five massive whirlpools around the escort of ships. It seems that the damn thing actually worked and the Sea God is dead set on taking Akari away. A massive wave bowls Tsumugu overboard while Akari is thrown into the whirlpool with Manaka and Hikari diving after her. The whole situation descends into absolute chaos.
The following events happen so quick I don't even know how to describe them. As Tsumugu falls unconscious, Chisaki grabs him and starts swimming back to the surface, afraid that he will drown. Uroko at this point renders Hikari's dad unconscious so that he doesn't interfere. Kaname joins Chisaki in bringing Tsumugu back to the ship but they fail to notice the massive bridge pillars beginning to weaken.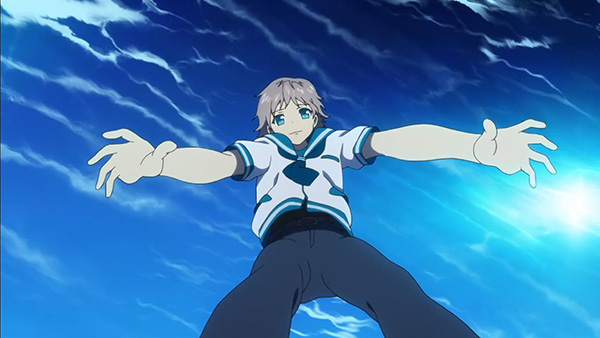 Kaname is thrown off the ship as the stone pier collapses and Chisaki screams. His fate is unknown. Manaka meanwhile is struggling to rescue Akari and offers herself to the Sea God instead. As Akari is let go, Manaka is dragged down and slammed into the sea bed. Akari and Tsumugu are saved, but in exchange Kaname and Manaka are now gone.
What a calamitous episode. I can't even wrap this anime impression up properly as I'm still in shock. See you in episode 14!
Check out more Nagi no Asukara impressions HERE.