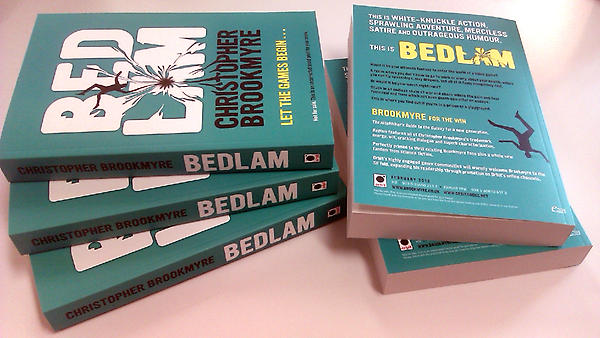 Readers and Gamers alike rejoice! In honour of the launch of the launch of Christopher Brookmyre's new book, Bedlam, RedBedlam Ltd. is running a competition with a pretty sweet Alienware PC gaming rig as a prize (Specs to be found below). Firstly, the narrative of Bedlam focuses on the exploits of an unfortunate individual who wakes up in the world of video games as a grunt in someone else's game (or one of my gnomish subjects in Gnomoria– da dum tsch). With a dark wit, the story will explore a number of familiar gaming worlds and will be the start of series which also includes a First-Person Shooter game based on the world of the novel which, in turn, is set to be released later this year.
Rig specs:
Intel® Core™ i7-4770 Processor (8MB Cache, up to 3.9GHz with Turbo Boost Technology)
AMD Radeon™ R9 270 with 2GB GDDR5
8GB Dual Channel DDR3 at 1600Mhz
1TB (64MB Cache) 7200 RPM SATA 6Gb/s
To enter into the competition for the swell gaming rig, all one has to do is share the first chapter of the book with a friend. Said chapter can be found here and entry details can be found here.