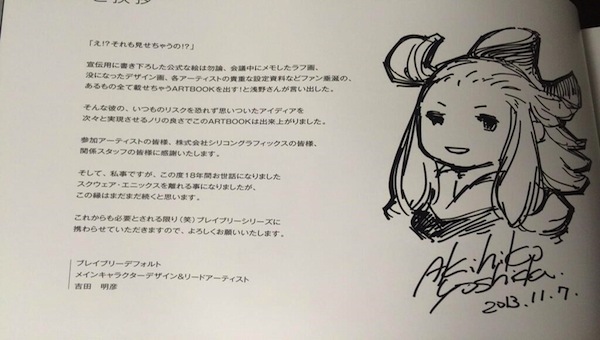 The main character designer for the 3DS RPG game Bravely Default: Flying Fairy, Akihiko Yoshida, has announced his departure from Square Enix. Yoshida has committed 18 years of amazing design work for the Japanese company. His contributions span a multitude of games since joining Square Soft in 1995, including titles such as Vagrant Story, Tactics Ogre, Final Fantasy Tactics and Final Fantasy XII. His departure was announced in a message contained in The Art of Bravely, the official art book for Square Enix's Bravely Default.
"This is a personal message of mine, but I'd like to say thank you for all the support these past 18 years. I have decided to leave Square Enix, but I believe our relationship will continue going on.

And as long as I'm needed [laughs,] I will continue working on the Bravely Default series. Thank you for your continued support.

Bravely Default main character designer & lead artist,

Akihiko Yoshida"
Akihiko Yoshida was currently working on the game's sequel, Bravely Second, however, Square Enix is yet to confirm if he will continue working on the game. Western versions of the game are set to release this year on October 6 and October 7 in Europe and Australia respectively and February 7, 2014 for North America.