Ace of Diamond
Episode 8 – The Truth About Chris
Following last weeks game-changing episode of Ace of Diamond, we were left with more questions than answers. What kind of mentor would Chris be for Eijun? Is Chris just another obstacle in Eijun's way or is he the one to help this diamond in the rough shine? Regardless of all that one thing was for certain, there was something mysterious about Chris, his cold eyes held a sad truth.
Over the course of this episode, Eijun butts heads over and over with Chris, not satisfied with him as his mentor. He is still dead set on Kazuya as his mentor but there is something deeper here, something that idiot Eijun doesn't realise. The is a story behind Chris that he doesn't know. The truth about Chris is one that rings very true to reality. Chris was the former star of Seidou, but suffered a shoulder injury after pushing himself too hard and has effectively brought his potential career to what looks to be an early end (here's hoping that's not the case).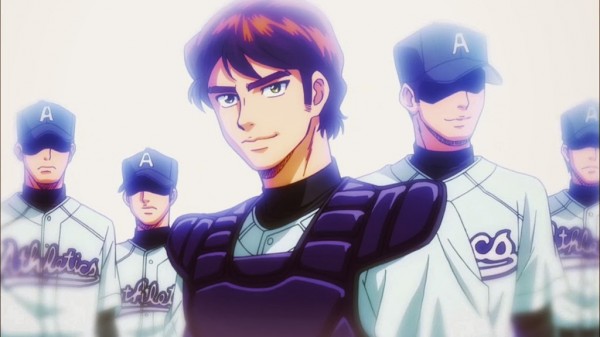 Underlining the Chris storyline is the ongoing rivalry between Eijun and Furuya. What makes Ace of Diamond so interesting is the way it distorts the sports anime formula into different shapes and forms. Rather than being confronted with a rival team, Eijun's real rival is within his own team. It is quite a spin on the usual formula and one that comes off as very refreshing. As the tension builds towards the first major game for Eijun, so does the tension between these two would-be aces. Furuya is brought onto the mound for the first game of the Kanto Tournament as part of the First String and strikes out six players straight. It is hard to see how Eijun can catch up with so much distance between these two rivals. At the end of the day there can only be one true ace and with so many vying for the top spot, it is anyone's guess what road lies ahead for our idiot hero.
While that rivalry has been a talking point for Ace of Diamond since Furuya's introduction, Chris has proved to be a major player quite quickly and the reveal at the end of the episode of his injury rehabilitation is a genuine gut punch to the viewer emotionally. Chris has proven to be a tough man to crack and now that we know why he is the way he is, we come to see that he is actually the perfect person to mentor Eijun. What Eijun needs is for his enthusiasm to be reined in and concentrated into something productive. Chris is undoubtedly someone who understands the cost of being too passionate for your own good and he can pass on his own lessons to Eijun.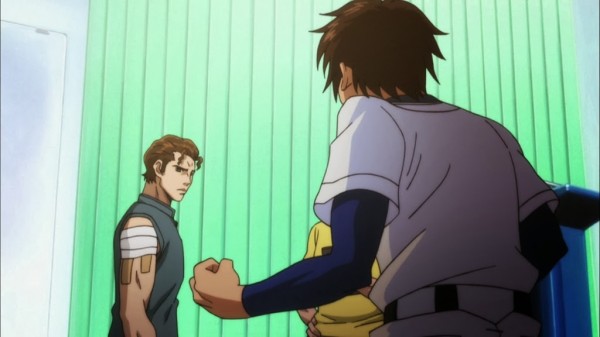 It has been shown time and time again that Eijun's achilles heel is that he is just too passionate for his own good and much like it was for Chris it could prove to be a serious problem if not controlled. There are real consequences at stake and Chris is the embodiment of that. Eijun needs his fire tempered and Chris' cool persona fits the description to a tee.
Ace of Diamond once again proves that sports anime can be just as compelling and emotionally involving as any genre of anime. It is a damned shame that this series is being so sadly overlooked in the West. But it isn't exactly surprising as sports anime have historically failed to garner any attention from Western anime fans, which is oddly the complete opposite of the Japanese reception of series like this. It is sad that a series this good doesn't get half the attention it should, but in the end the only ones missing out are those aren't watching. Ace of Diamond is brilliant and this episode makes a case for this as one of the best anime of 2013.
Check out more Ace of Diamond impressions HERE.