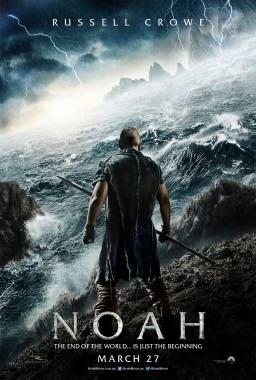 Paramount Pictures Australia have released the official teaser poster (visible to the right, click to enlarge) for Darren Aronofsky's NOAH, starring Russell Crowe, Jennifer Connelly, Emma Watson & Anthony Hopkins.
The film is a high budget, action-heavy take around the biblical tale of the titular hero (played by Crowe), who built the Ark in order to protect Earth's inhabitants – or, at least two of each species – from the coming Great Flood. We all know the story, but it will be interesting to see a big screen version from such a phenomenal director… it has to be better than Evan Almighty, right?
NOAH comes out on the 27th of March, 2014. The first trailer will be unleashed tomorrow, but in the mean time, Paramount have also shared two 6-second teaser clips to whet the appetite. I nearly wrote "wet" there instead… you know, because of the water and all… aren't you proud of my restraint?! Anyway, check them out below (one in-line, the next embedded at the bottom).
Action Trailer Teaser