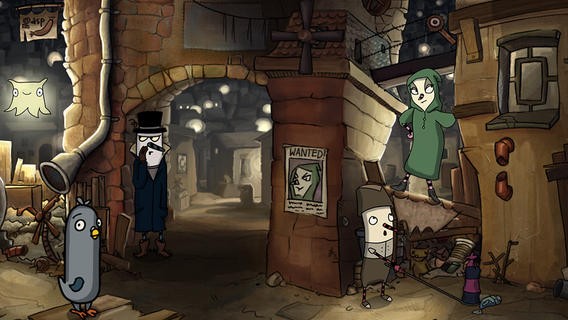 Welcome back for this week's iOS Game Suggestions. If you missed last week's, or are new to the suggestions, click on the link below and check out what cool games you should be picking up for your iOS device along with the introduction on how the suggestions work. (suggestions 1 has how it all works)
MasterAbbott's iOS Game Suggestions
A great week on iTunes! As always, it started slow and but ended with a bang! There are many must-buy games this week in all departments, FREE, 99c and over 99c. This week I've suggested a total of 18 great quality titles. Make sure you check them all especially… Final Fantasy IV: The After Years, Icycle: On Thin Ice, Galaxy On Fire – Alliances, Kiwi & Me, Inner World, Skulls Of The Shogun,   just to name a few.
Break down below :
6 – FREE Games
5 – $0.99c Games
7 – Over $0.99c Games
As always for this week's suggestions are all new titles that you should take a look at and consider spending your hard earned iTunes cash / time on.  Well the Free games just below certainly should all be given a shot as they won't cost you anything!
For The Cheapskates – FREE GAMES
 
Galaxy On Fire – Alliances – Price : FREE – Publisher –

Fishlabs

 (Galaxy on Fire – Alliances puts you in the role of an up-and-coming Commander of the Terrans, Nivelians or Vossk. Determined to claim and conquer a hitherto uncharted part of the galaxy known as the Shroud Nebula, you will set out to seek fame and fortune beyond the final frontier. Starting your operations from within your private home system, you will soon breach into a vivid galaxy with over 400,000 individual planets and challenge thousands of players in an epic quest for space dominion.

) runs on iPad & iPhone.

GET IT NOW FOR FREE

 
Jetbee – Ready, set… GO!  – Price : FREE – Publisher –

Bulkypix

 (You can play alone or against up to eight participants in more than 20 courses on wild multiplayer modes! Get your rivals out of your way catching and using special items placed on the courses: Speed boost flowers, poison grenades, M'Fly the bodyguard fly,… 

) runs on iPad & iPhone.

GET IT NOW FOR FREE

 
Kiwi & Me – Price : FREE – Publisher –

Beeline Interactive

 (Meet Kiwi, a magical creature who's a little bit bird, a little bit plant, and a whole lotta' cute! Kiwi's mother has gone missing, and Kiwi needs your help to find her again. Help Kiwi navigate forests, mountains, desert, and more by switching, mixing, and matching your way through colorful puzzles to find the things Kiwi will need to complete the journey. Get to know Kiwi and watch your new friend grow up before your eyes.

) runs on iPad & iPhone.

GET IT NOW FOR FREE

 
Adventure Town – Price : FREE – Publisher –

Supersolid

 (HEROES WANTED! Our once magnificent town has been destroyed by terrifying monsters and bone-chilling beasts! Please help us return our town to its former glory, and we will reward you handsomely. Place tempting new shops and houses in the town to attract mighty heroes in search of adventure, then customize the heroes and make them the greatest fighting legends in history! Only YOU can make our world great once more and save us from the evil forces of darkness!

) runs on iPad & iPhone.

GET IT NOW FOR FREE

 

OMG: TD! – Price : FREE – Publisher – Yodo1 Games (Play the action-packed defense game where you command the Greek gods themselves! Blast hordes of monsters with elemental magic, call legendary heroes to your aid, and summon your gods to wreak havoc across the battlefield!) on iPad & iPhone. GET IT NOW FOR FREE

 
Stampede Run – Price : FREE – Publisher –

Zynga

 (Single player mode is here! Charge through the streets of Spain – dodge bulls on your own or challenge your friends, you choose! Complete achievements to earn new boosts and power your way up the leaderboards. The bulls are ready to run anywhere you go, with offline play now available.

) runs on iPad & iPhone.

GET IT NOW FOR FREE
For The Bargain Hunters – 99c Games
 

Plague Inc – Price : $0.99 – Publisher – Ndemic Creations (Can you infect the world? Plague Inc. is a unique mix of high strategy and terrifyingly realistic simulation. Your pathogen has just infected 'Patient Zero'. Now you must bring about the end of human history by evolving a deadly, global Plague whilst adapting against everything humanity can do to defend itself. Brilliantly executed with innovative gameplay and built from the ground up for iPhone & iPad, Plague Inc. evolves the strategy genre and pushes mobile gaming (and you) to new levels. It's You vs. the world – only the strongest can survive! ) runs on iPhone & iPad. BUY NOW

Icycle: On Thin Ice – Price : $0.99 – Publisher – Chillingo (Games and art become one in the masterfully crafted and visually stunning Icycle: On Thin Ice. Play as the cold naked hero Dennis, and pedal, jump and glide through each beautiful but deadly post-apocalyptic frozen wonderland.) runs on iPad & iPhone. BUY NOW

 

Numerity – Price : $0.99 – Publisher – Zedarus Entertainment (Discover what is hidden in a clutter of numbers! Find and highlight the correct numerals until they form a distinctive image. Challenge and develop your concentration, math, and memory skills! Share images you've found with your friends on Facebook and Twitter.) runs on iPhone & iPad. BUY NOW

 

Skateboard Slam – Price : $0.99 – Publisher – Zynga (Ready…Set…Slam! Face off against friends or tear into single player challenges in this high-flying, high-octane skateboarding race. Trick your way around obstacles and traps through four exotic worlds to reach the finish line first!) runs on iPhone & iPad. BUY NOW

 
Darklings – Price : $0.99 – Publisher –

MildMania

 (Darklings is an epic endless adventure through magical worlds. Experience unique gesture driven gameplay blended with awesome noire artwork carrying the touch based games to a whole new level. Join Lum to purge the Darklings. Save the stars, save the world. Darkness is coming!.) runs on iPhone & iPad.

BUY NOW
For The Millionaires – All games over $0.99
 

Final Fantasy IV: The After Years – Price : $16.99  – Publisher – Square Enix (With a full 3-D remake, FINAL FANTASY IV: THE AFTER YEARS can now be played as never before. Take part in the epic sequel that unfolds nearly two decades after the events of FINAL FANTASY IV. Classic characters make their return alongside several new heroes, such as Ceodore, son of Cecil and Rosa.) runs on iPhone & iPad. BUY NOW

 
MULE Returns – Price : $4.99 – Publisher –

Comma 8 Studios

 (MULE is a ridiculously fun and addictive strategy game that combines real-time and turn-based styles as you battle for land and resources on a newly colonized planet. The game is easy to grasp but provides great depth of game-play.

) runs on iPad.

BUY NOW

 
Puzzle Coaster – Price : $1.99 – Publisher –

Marvelous Games

 (Who hasn't wanted to design the PERFECT roller coaster? Puzzle Coaster puts YOU in control – and you'll need to use the right pieces of track to build just the right coaster that both thrills the passengers and collects all the coins along the way. Your coaster kit will include a variety of crazy pieces including loop-de-loops, cannon blasters and super springs. Just like your favourite ride, things start off pretty mellow but get exciting real fast – you will need your thinking cap on to complete all 63 brain-busting levels!) runs iPad & iPhone. BUY NOW
 

Wrath Of Psychobos – Ben 10 Omniverse – Price : $2.99  – Publisher – Cartoon Network (Use Ben's alien powers and Rook's Proto-Tool weapons to take down the evil genius Dr. Psychobos in a GIGANTIC BEN 10 ADVENTURE! Explore the galaxy and battle tons of bad guys in Wrath of Psychobos!) runs on iPhone & iPad. BUY NOW

 

The Inner World – Price : $2.99  – Publisher – Headup Games (Robert is a novice, a bit clueless, but with a heart of gold. He lives a peaceful life as a court musician in Asposia's largest wind monastery. Contrary to the laws of physics, Asposia is an enormous, hollow space surrounded by an infinite expanse of earth. The world's air is provided through three wind fountains, but as one wind fountain after the other petered out and the wind gods came to Asposia, all of the sudden Robert found him in the middle of a whirlwind.) runs on iPhone & iPad. BUY NOW

 

Skulls Of The Shogun – Price : $4.99  – Publisher – 17-Bit. (Crush your enemies and eat their skulls! Skulls of the Shogun is a fast-paced turn-based strategy game, supercharged with fighting-game flare and double-stuffed with a serious sense of humor! Enter the Samurai Afterlife and join forces with undead warriors, magical monks, and mighty mustachioed samurai generals!) runs on iPhone & iPad. BUY NOW

 
The Mysterious Cities Of Gold: Secret Paths [Director's Cut] – Price : $11.99 – Publisher –

Ynnis Interactive

 (Play Esteban, Zia and Tao through numerous tricky levels full of puzzles, traps and infiltration phases in a wide variety of diverse gorgeous settings. Explore every nook and cranny of China, and escape Zarès' hostile men, searching for the local City of Gold. 

) runs on iPhone & iPad.

BUY NOW
There you have it folks these games should keep you busy for quite some time well until next week at least. I'll be back next week for another dose of iOS goodness, in the meantime if you would also like to suggest your own suggestions, please feel free to share them in the comments section below or in the iOS forum section on the site here.
Remember kids, Play Hard Or Don't Play At All!